September 12th, 2009
Beefeater 24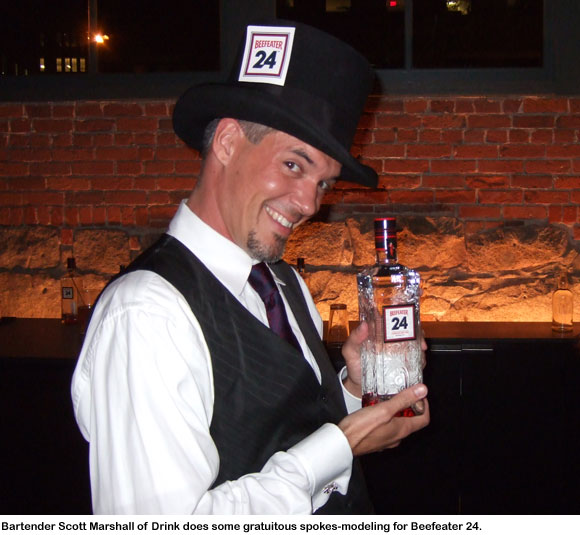 When I mention to the uninitiated imbiber that I like Beefeater gin, I get strange looks. In the world of sexy, new-style gins like Hendricks and Tanqueray 10, whose flavors are designed to appeal to the juniper-shy, Beefeater is viewed as an old-man drink. But to people who actually put vermouth in their Martinis and enjoy an honest-to-goodness Tom Collins, Beefeater is a classic. The fact that Audrey Saunders endorses it doesn't hurt, either.
The brand recently launched a new gin, Beefeater 24, in Boston. "Distilled in the heart of England's capital, Beefeater 24 takes its name from the unique 24-hour steeping process and the city's 24-hour stylish and sophisticated lifestyle," says the press release. I know, that "lifestyle" line is a doozy, but "stylish and sophisticated" perfectly describe the gin's packaging. It's more "swinging London," less "British Empire." Blessedly, though, the spirit's flavor evokes the latter.
While Beefeater 24 adds three new botanicals (Japanese Sencha tea, Chinese green tea and Spanish grapefruit peel) to the original nine (juniper, Seville orange peel, lemon peel, angelica root, angelica seed, orris root, licorice, coriander seed and almond), it tastes quite a bit like regular Beefeater. The tea flavors are really, really understated and create a slight tannic finish; Beefeater's traditional citrusy character gets a little more complexity from the grapefruit peel; and the 24 is softer in the mouth than the original. Otherwise, it's as London-dry and cocktail-friendly as its parent. It's also more expensive, of course, at $29/750 ml compared to $22 or so for the original. (The 24 cuts out more of the heads and tails, or beginning and end products of distillation, resulting in a smoother spirit.)
Beefeater master distiller and all-around nice guy Desmond Payne, who was in town for the launch, seemed pleased as punch by his new creation — the first recipe he has been called upon to devise in his 40+ years making gin, first for Plymouth, then for Beefeater. He mentioned that one of his favorite gin drinks is a Negroni, and he was excited about 24's debut aligning with the resurgence in classic cocktails. The growth in demand for the flavors of old means that Payne could unabashedly create a new gin for the gin drinker.
Gin Old-Fashioned
Created for the Beefeater 24 launch party at Drink
2 oz Beefeater 24
1/4 oz gomme syrup (2 parts sugar, 1 part water)
1 dash bergamot bitters (house-made)
1 dash Angostura orange bitters
Build in a heavy-bottomed rocks glass and stir well over a large lump of ice.
Permalink | Filed under Booze in the news, Gin | Tags: Beefeater 24