December 5th, 2007
Chez Henri – Best Boston bars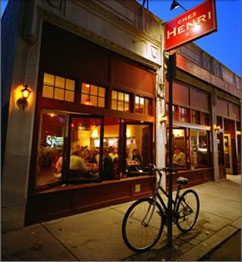 Established: 1994
Specialty: Wine, cocktails
Prices: Moderate to high
Atmosphere: Warmly lit Cambridge nook with noted French-Cuban cuisine, stellar wines by the glass and a short but sweet cocktail menu, all doled out by a single hardworking, competent bartender.
See Best Boston bars for address and contact info.
This is what happens whenever I get near Chez Henri: the cheery red window frames catch my eye, and I peer inside to gauge the seating prospects at the narrow, cozy bar filled with contented Cantabrigians eating Cuban sandwiches. Even if there's a crowd, I can't help myself — I go in and wait patiently for a barstool.
Chez Henri has two distinct clienteles: the one that fills the dining room to feast on Chef Paul O'Connell's nationally recognized French-Cuban cuisine, and the one that flocks to the bar that introduced Mojitos and Cuban sandwiches to greater Boston. O'Connell himself notes that there is a clear demarcation between the "bar people and the dining room people." He once thought about expanding the bar area but decided, probably correctly, that its small size had a lot to do with its charm. Plus, the architecture of the previous occupant wasn't to be messed with. A restaurant called Chez Jean operated here for 35 years prior to Chez Henri. "I felt like a caretaker when I took over the space," explains O'Connell, who kept the "Chez" and added the "Henri," for his son.
One thing about O'Connell, he knows how to pick his bartenders. Some of Boston's best — Joe McGuirk, Dylan Black, Scott Holliday — have put in time here and helped coin the standard summation of what it's like to run the show on this cute, cozy little stage: 'This bar will break you.' Between pounding mint leaves into battalions of Mojito glasses, serving two different menus (restaurant and bar), recommending wines and tending to additional customers at the back bar and at a handful of tables, it takes hustle to succeed here. The latest team, Ari Barbanel and Rob Kraemer, takes turns holding down the fort, with Kraemer carrying on an unofficial tradition of classic cocktail-inspired mixology. From day one, O'Connell has eschewed "flavored vodka drinks" for rum-based classics like the Periodista (dark rum, fresh lime, apricot liqueur and dash of orange liqueur) and bartender creations like Kraemer's Shiver. And at $7 each, these cocktails are some of the cheapest in Cambridge.
Did I mention it gets crowded in here? And that sometimes the crowd skews a bit much toward gray-ponytailed professor types? Don't worry, such annoyances melt away as soon as you secure a seat at the bar.
Permalink | Filed under Boston bars |