June 26th, 2008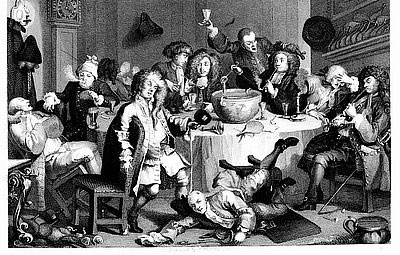 You saved the date, but have you made reservations yet for drinkboston's Flowing Bowl Punch Party at Eastern Standard this Monday, June 30? No? You were waiting to hear just what was going to be in those flowing bowls, weren't you? Well, here are the goods. Jackson Cannon and his talented staff will mix four classic punches and serve them out of traditional bowls in the restaurant's front lounge and porch area. The featured liquids are Martha Washington's Rum Punch, Philadelphia Fish House Punch, Milk Punch No. 1 (from the Savoy cocktail book)* and … a mystery punch to be determined. You'll just have to show up to find out what's in that bowl.
Remember, this isn't your grandmother's punch (cheap champagne, ginger ale, orange sherbet). It's your great-great-great-great-great grandmother's punch (strong spirits, sugar, fresh citrus, spices). Rest assured that, while these mixtures contain plenty of rum, brandy and other bracing liquors, they are remarkably balanced and not overly sweet.
Don your party threads and commune with us around the flowing bowl. To reserve tickets by credit card, call Eastern Standard at 617-532-9100. Tickets are $30 and include servings of four different kinds of punch and passed appetizers. The party starts at 5:30 p.m. and lasts 'til the punch runs out.
Want to receive email invitations to drinkboston events? Send a request to drinkboston at comcast dot net.
* The recipe for Milk Punch No. 1 is complicated. It involves steeping brandy, Jamaica rum, Batavia Arrack, spices, lemon, pineapple and green tea in boiling water, then adding milk and more lemon, then straining the whole curdled mixture into a container and serving it cold. You have to try it to believe it.
Posted in Events, Punch | 2 Comments »