November 4th, 2007
Three cheers for beer in the Hub
Boston is known as the Hub, and it is indeed a hub of many things. Higher education, of course. Sports, especially now. Also, as you know if you're a regular at drinkboston.com, Boston has lately emerged as a hub of cocktail culture. But well before the Red Sox and Patriots started winning championships, and before Beantowners rediscovered cocktails made with rye whiskey, brewers, tavern owners and beer enthusiasts made Boston into a hub of beer.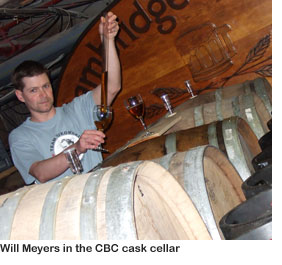 The Boston Beer Co. (Sam Adams), established in 1984, was one of the first craft breweries in the country. The first brewpub east of the Mississippi opened in Boston in 1986 (the Commonwealth Brewing Co., now closed). And the city's first multi-tap beer bar, the Sunset Grill & Tap, opened back in 1987. Today, there are eight breweries and brewpubs and seven multi-taps in greater Boston. Oh, and did I mention that BeerAdvocate.com, the world's biggest online beer community (and now a print magazine), is based in Boston? All of this makes for a vibrant, nationally recognized beer scene that has spilled over into the city's other, non-beer-oriented bars and restaurants. The number of establishments that make an effort to stock good craft beers (domestic and imported) is increasing, and the variety of beers available is huge. (See below.)
A sizable part of Boston's reputation for good beer rests on the shoulders of Will Meyers, who has been brewing beer at the Cambridge Brewing Co. since 1993. (Disclosure: I was Will's brewing assistant from 1997-1999.) With his basic, two-vessel brewhouse, he turns out many fine examples of the world's major beer styles, including bitter, pale ale, IPA, porter, stout, barleywine, Scotch ale, bock and several different Belgian-style ales. He also taps a fresh cask-conditioned beer, dispensed through a traditional British beer engine, every Tuesday night.
In an exciting development this past year, Will cleared out a junk-filled section of the CBC's basement and installed a cask cellar. He procured 20-odd oak barrels from whiskey distillers, California wineries and other brewers and filled them with all manner of strong, funky, Belgian-inspired ales fermented with odd yeast strains. As these specimens evolve and mellow out, Will dispenses them at the CBC's bar, as well as brewers dinners and festivals — like BeerAdvocate's latest Belgian Beer Fest. Making these types of beers well is a real challenge, so I was impressed by a glass of kriek — sour Belgian-style lambic fermented with real cherries — I had at the CBC recently. The beer was a natural rosy-red, with balanced sourness and cherry flavors and a fine carbonation. Really sophisticated stuff.
Another pillar of the Boston beer scene is Redbones BBQ, whose annual Northwest Fest is happening all month, with two special dinners November 13 and 14. Two dozen breweries in America's microbrew mecca, Washington and Oregon, ship kegs to Somerville just for this event. There are some really kickass beers in the lineup, and Redbones serves them until the end of November or until the kegs run dry, whichever comes first.
This is a top-of-my-head list of places that make and/or serve good beer in the Boston area. Did I miss any? Let me know.
Breweries
Boston Beer Co.
Harpoon Brewery
Brewpubs
Boston Beer Works (2 locations)
Cambridge Brewing Co.
John Harvard's
Rock Bottom
Watch City Brewing Co. (Waltham)
Multi-Taps
Bukowski Tavern (Boston & Cambridge)
Cambridge Common
Deep Ellum
The Public House
Redbones BBQ
Sunset Grill & Tap
Other restaurants and bars with good beer selections
The Blue Room
Charlie's Kitchen
Eastern Standard
Green Street
The Independent
Jacob Wirth
No. 9 Park
The Other Side Cafe