June 26th, 2008
Tiki drinks – a brief history in the Dig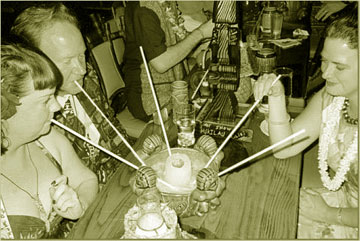 The LUPEC Boston cocktail column in the Weekly Dig is slightly expanded for the annual Summer Dining issue, out this week. With the help of my fellow LUPEC broads, Hanky Panky and Pinky Gonzales, I (Barbara West) encapsulate the history of tiki drinks. We start out with this fact, which surprises a lot of people: the tiki bar phenomenon began in Hollywood, California, in 1934 — right after Prohibition. Also, as anyone over the age of 50 can tell you, there used to be a ton of tiki bars in Boston.
One of our sources, cocktail historian Brother Cleve, suggested a favorite tiki drink of his, the Shrunken Skull, as our featured cocktail for the column. He and his fellow tiki expert, Jeff "Beachbum" Berry, whose books reveal the original recipe for the Shrunken Skull and scores of other tiki drinks, are hosting a tiki block party July 19 in New Orleans at Tales of the Cocktail.
Check out LUPEC Boston's blog post about where to get tiki drinks around eastern Mass., and enjoy shrinking your skull with this:
Shrunken Skull (adapted from Beachbum Berry's Grog Log)
1 oz Cruzan Estate light rum (aged two years)
1 oz Demerara rum
1 ounce fresh lime juice
1 ounce grenadine
dash of Angostura bitters
Shake with ice and pour into a skull mug. Top with 1/2 oz club soda.
Shopping for rum and other tiki ingredients? Here are some tips.
Permalink | Filed under Booze in the news, Cocktails, Rum | Tags: tiki drinks