July 10th, 2007
Martha Washington Punch & Champagne Juleps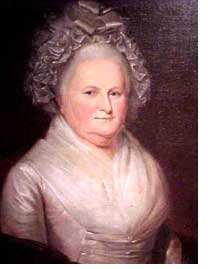 I was lucky enough to be present at a July 4 roofdeck party where Misty Kalkofen appropriately brought along a batch of Martha Washington Rum Punch. The stuff was to be admired on principle alone; picture our first First Lady serving the mixture to dignitaries at Mt. Vernon, probably using rum from the estate's own distillery(!). Give it up for Martha and that badass husband of hers. But the punch didn't just get by on its historic coolness. It was actually delicious. Misty writes about Martha and her punch, as well as re-creates the recipe, on the LUPEC-Boston blog. (For convenience's sake, I've copied the recipe below. Frankly, I would call the grated cinnamon and nutmeg on the finished drink optional.) When I heard "nutmeg, cinnamon and cloves," I thought, 'Uh-oh, this is going to taste weirdly wintry.' But the flavors of the spices, juices and rum were perfectly melded together to create an almost tea-like iced drink that was a thing unto itself — a dangerous thing unto itself, since it didn't taste anywhere near boozy as it is.
Martha Washington's Rum Punch
4 oz lemon juice
4 oz orange juice
4 oz simple syrup
3 lemons quartered
1 orange quartered
1/2 tsp grated nutmeg
3 cinnamon sticks broken
6 cloves
12 oz boiling water
In a container mash the lemons, orange, nutmeg, cinnamon sticks and cloves. Add syrup, lemon and orange juice. Pour the boiling water over the mixture. Let it cool. Strain out the solids. Heat the juice mixture to a boil and simmer for 10 minutes. Let it cool and refrigerate over night.
In a punch bowl combine:
3 parts juice mixture
1 part light rum
1 part dark rum
1/2 part orange curacao
Serve the punch over ice. Top with grated nutmeg and cinnamon.
Champagne Juleps were simply something I discovered on cocktaildb.com. I happened to have a bottle of pretty good champagne on hand, plus a tall, vintage glass pitcher, and I wanted to serve a crowd-pleasing, summery cocktail to some dinner guests. Champagne Juleps were the answer. These are essentially Mojitos made with brandy and sparkling wine instead of rum and soda water, and served over crushed ice. I saw one of my guests the following night, and — mind you this guy rarely veers out of Guinness-and-Jameson territory — he said, "I can't stop thinking about Champagne Juleps." They were quite tasty if may say so myself. Here's the cocktaildb.com recipe, followed by my modifications.
Champagne Julep
Build, fill glass 1/2 with crushed ice
1 1/2 oz brandy
1 tsp sugar, muddle with several mint sprigs in a splash of water (4 dashes)
Fill with Champagne
Add mint sprigs
Serve in a double rocks glass (12.0 oz)
I used superfine sugar, and a little more than half of the amount called for, which made the drink plenty sweet. I also only used about 2 mint leaves per serving. Since I was using a pitcher, I muddled the sugar, water and mint right in there, then added the brandy and stirred. The 40-lb bag of crushed ice I bought at Acme Ice was overkill, but I stuffed the rest of it in the freezer for future summer libations.