March 26th, 2008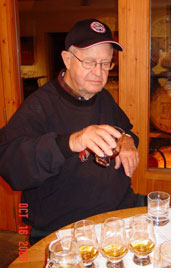 The Independent's cheeky and clever head bartender, Evan Harrison, had a dream. He would take the cases of third-rate, Cluny blended scotch that somehow ended up in the restaurant's basement, create a special menu of cocktails, and sell the drinks for $5. And the Independent said, "Yea brother, and we will donate the money from those scotch cocktails to Somerville-Cambridge Elder Services."
That's how Scotch for Old People came about. If you're tired of cocktail events that take the easy way out by featuring premium spirits, if you want to relive that 1982 wedding reception in the VFW hall, if you want to know what your grandfather was drinking when he came back from Korea, then go to the Indo on the evening of Monday, March 31.
A special guest will join Evan behind the bar that night: drinkboston's own Scott Howe, who, appropriately enough, hasn't been on the stick since helping out at his dad's bar in Worcester during high school.
Since the Indo is one of Boston's best bars, Scotch for Old People isn't just about cranking out Scotch and Sodas and Rusty Nails. Here are some of the rough-meets-refined tipples you're in for:
Gretna Green
1 1/2 oz Cluny scotch, 1/2 oz green Chartreuse, 1 oz lemon, 1/2 oz honey
Inverness
2 oz Cluny scotch, 1/2 oz lemon, 1 tsp orgeat, 1 tsp curacao
Bobby Burns
1 oz Cluny scotch, 1 oz sweet vermouth, splash Benedictine
Cluny Sour
2 oz Cluny scotch, 3/4 oz lemon, 1/4 oz simple syrup
Gertsie's Gick
1 oz Cluny scotch, 1 oz Lillet Blanc, 1/2 oz Drambuie
The Indo's general manager, Jess Willis, says, "Scotch for Old People will run from 8:00 until we run out of scotch, or 1:00 a.m., whichever comes first." Hint: Monday nights are popular with bar industry folk, who will drink just about anything on their night off, so it's entirely possible the Cluny could be drained by midnight. See you there.
Tags: scotch, senior citizens
Posted in Events, Whiskey | 4 Comments »