November 5th, 2006
Gin and It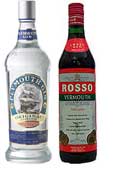 Experimentation can be a tough thing to do at a neighborhood bar, but Jess Willis, the general manager of the Independent (75 Union Sq. Somerville), has boldly ventured backward in time to create the Indo's current cocktail menu. She put the Fitzgerald, the Brandy Alexander and the Algonquin on there. Then she dug deep into the vault and dusted off the Gin and It. Praise the lord.
This is one weird cocktail by the standards of the contemporary world, where anyone who orders a Martini expects a mixture of about 50 parts gin or vodka to one part dry (white) vermouth. Well, get this: the Gin and It calls for sweet (red) vermouth, and lots of it. (Vermouth is red or white wine flavored with herbs and spices, lightly fortified with grain neutral spirit and, in the case of red vermouth, lightly sweetened.) The recipe in Dale DeGroff's book The Craft of the Cocktail consists of equal parts (1.5 ounces each) gin and sweet vermouth, plus a dash of Angostura bitters and an orange peel. DeGroff explains: "The Gin and It was actually ordered in the Hoffman House and other New York bars of the 1880s and '90s, simply as a Sweet Martini, and later as a Gin and Italian. During Prohibition, Gin and Italian was shortened to Gin and It."
A brief web search turned up recipes for the drink varying from the half-and-half version above to two parts gin, one part sweet (Italian) vermouth. But Jess decided to trick her version out with three parts vermouth to one part gin. Eeewww, you're saying. That's because vermouth has unfairly come to be viewed as a necessary evil to be administered only by the nano-liter so that people can claim they're drinking, say, a Manhattan instead of a chilled whiskey with a cherry. The fact is, without vermouth, the "cocktail" would not exist. It's an ingredient as essential to the pantheon of mixed drinks as bitters and spirits. The Indo's Gin and It, which also benefits from a dash of orange bitters, is tasty proof of this. Check it out for $8.
Permalink | Filed under Boston bars, Cocktails, Gin, Vermouth |