April 25th, 2010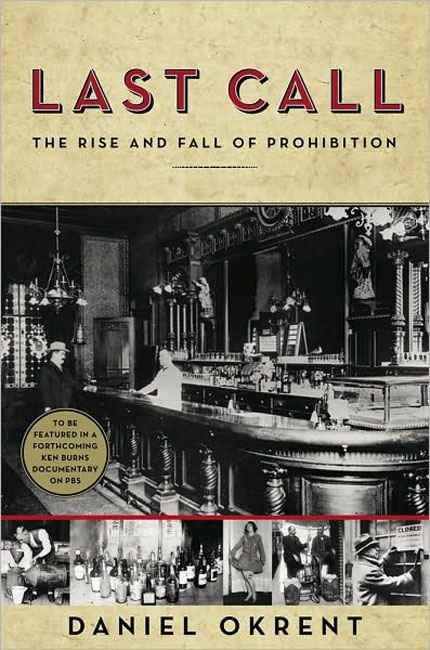 By Scott N. Howe
It was, of course, a stupid idea.
The 18th Amendment to the Constitution, which prohibited the "manufacture, sale, or transportation of intoxicating liquors" in the U.S., expanded government involvement in the lives of citizens and turned millions of regular folks who just wanted a beer into criminals. The amendment, and the Volstead Act that enforced it, also led to an explosion in organized crime, encouraged legitimate businesses to circumvent the law, and subjected the United States to the ridicule of many throughout the world. Winston Churchill called Prohibition "an affront to the whole history of mankind."
Today, it seems amazing that it happened at all, but Daniel Okrent's new book, Last Call: The Rise and Fall of Prohibition, makes as much sense of the era as can be made. The book illuminates the social and political factors that led to Prohibition's passage in 1919. The women's suffrage movement, mixed with anti-immigrant sentiment and shaken vigorously with righteous, saloon-hating religious elements, created a potent cocktail that intoxicated just enough congressmen and state legislators to enshrine the 18th Amendment into the Constitution.
Last Call humanizes Prohibition, discussing many individuals who made their names on both the "wet" and "dry" sides of the issue — people like Al Capone, Billy Sunday, H.L. Mencken, William Jennings Bryan, Carrie Nation, Susan B. Anthony, and Sam Bronfman – the Canadian bootlegger who went on to run the Seagram's empire. Okrent also re-introduces several long-forgotten figures who played important roles during the era, including the Anti-Saloon League's Wayne Wheeler, a political operative Okrent compares to Karl Rove, and Assistant Attorney General Mabel Willebrandt, arguably the most famous and powerful woman in America during the 1920s.
Drinkboston readers will find plenty of local angles in Last Call. For example, the book examines the work of Dorchester's Mary Hanchett Hunt, who brought temperance education to millions of American school kids in the late 1800s and even established a "Scientific Temperance Museum" at her home on Trull Street. You'll also find a detailed look at how bootleggers along the East Coast's "Rum Row" brought booze to New England during the '20s, as well as a convincing argument that Joseph P. Kennedy was not, in fact, a bootlegger.
Those looking for a rollicking ride through the Roaring '20s, however, may be disappointed in Last Call. Yes, you'll find flirty flappers, charmingly corrupt politicians, saucy speakeasies, F. Scott Fitzgerald, and even Elliott Ness's "Untouchables." Mostly, however, you'll find a sober (sorry) look at a twisted time in American history. So sober, in fact, that Okrent includes the entire text of the U.S. Constitution in the book's appendix. That's because Last Call isn't about what happens when you take a drink, it's about what happens when the law takes that drink away.
Tags: Daniel Okrent, history, Prohibition, Scott N. Howe
Posted in Books & resources | No Comments »