April 16th, 2011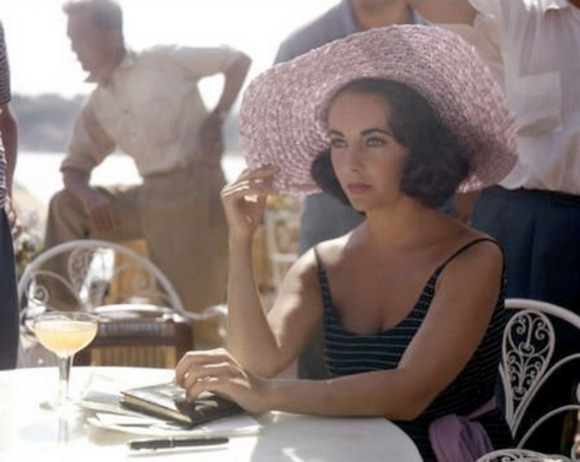 Little did I know that, as I was ordering the last drinks of my L.A. trip at The Varnish last month, Liz Taylor rolled a seven. Had I been aware of her passing at Cedars-Sinai just a few miles away, I might've gulped down my expertly crafted cocktail and rushed over to the West Hollywood gay bar Taylor frequented in her final years. Alas, I was oblivious until I caught Headline News at the airport the next day.
I'm not one to worship celebrities, but I loved Elizabeth Taylor. She was captivatingly gorgeous, elegant, slutty and vulgar (that last word being one she used to describe herself). No movie star has ever been bigger, and she basically said, "I'm having fun with this, bitches. Pour me another drink."
An admirer of that attitude, I knocked L.A. back with gusto, not unlike the first time around. Oh my, but has the bar scene changed in five years — cocktail joints are everywhere now, and they're the place to be. So I went…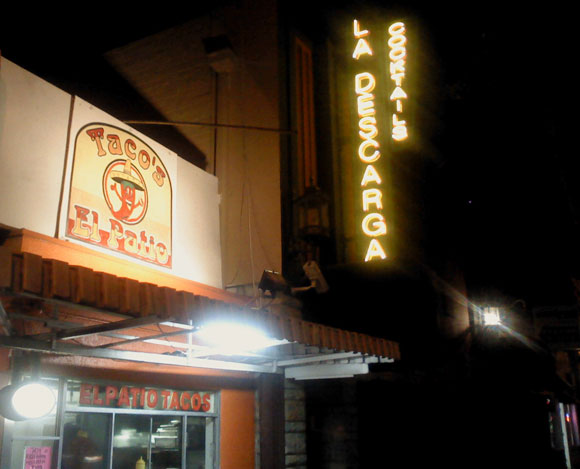 La Descarga, East Hollywood. This was recommended to me as THE hot cocktail bar in L.A. We managed to slide in early on a Saturday night after chatting with one of the valets outside who informed us that Katherine Heigl had been there the week before. Up a flight of stairs … into an antechamber where a hostess with a mini-dress and a Slavic accent opened the doors of a wardrobe (complete with empty hangers) … onto a wrought-iron catwalk with a spiral staircase … and behold: a two-story back bar full of rum. The place is a Bacardi-backed venture (with other rums and spirits invited into the mix) launched by the same team responsible for the brand-spanking-new Harvard & Stone (below). Bartenders in white shirts and black ties serve classic rum drinks (and the occasional Red Bull and vodka) to a fashionable crowd entertained by live Latin jazz and burlesque performers. Think: Old Havana nightclub meets warehouse party. This being L.A., the look of the place is all expert set design, from the cracked plaster to the random-seeming burnt-out light bulbs. Yep, the name of this bar means "the discharge." I have no idea.
Caña, Downtown. Yes, another hot rum bar. Intriguingly located in the back of a parking garage, Caña occupies the space formerly known as The Doheny, a private cocktail club with a $2200 membership fee. Caña is also a private club, but membership only costs $20, and all you have to do is check into the place on Foursquare to waive that. I was lucky enough to visit Caña with L.A. Drinking Ambassadors Chuck Taggart and Wes Moore, who know every good bartender and tippling joint in the city. We had a couple rounds of finely crafted drinks from this menu. The Royal Oil, Misti Dawn Swizzle and Good Word were particularly outstanding.
The Varnish, Downtown. We really, really wanted to have a French Dip at Cole's (est. 1908) before heading to the back of the restaurant and opening an unmarked door into the speakeasy that put L.A. on the craft-cocktail map. But the kitchen closed at 10:00 — jeez, Downtown L.A. rolls up the sidewalks early on a Tuesday! So we headed to The Gorbels (a cool restaurant by Top Chef winner Ilan Hall) for some bacon-wrapped matzo balls before closing out the evening at The Varnish with Chuck, Wes and Ron "LushAngeles" Dollet. Vintage tile floor, wood-paneled walls, a saloon piano player and a compact bar make this a place that you'd want to be your second living room. Oh, and the drinks ain't bad either. This is where I got my whiskey fix with a shimmering Emerald (Red Breast Irish whiskey, Carpano Antica vermouth and orange bitters) and a tasty Talent Scout (bourbon, curacao, Angostura bitters) from Chris Bostick. Unfortunately, I missed seeing Woburn native Devon Tarby, one of the top broads of L.A.'s cocktail scene, behind the bar. Next time.
Harvard & Stone, East Hollywood. Another craft cocktail bar amid an Oscar-worthy interior designed to look like, as the L.A. Times put it, "a mix of industrial steampunk warehouse and a 1940s boiler room." Also responsible for the rum-focused La Descarga (above), the team behind Harvard & Stone decided to skew domestic for its booze selection and minimalist for its cocktail menu. The night we were there, the smaller back bar, aka the R & D bar, was featuring Aviation gin from Portland, OR, and offering a list of about five not-too-complicated drinks. I appreciated that kind of limitation, as well as the casually hip staff and clientele.
Notable cocktails were also had at:
Comme Ça, West Hollywood. A Penicillin and a Doe-Eyed Doll (cognac, Aperol, lemon, straight-up).
Library Bar at the Hollywood Roosevelt Hotel. The buzz about this place generally focuses on head bartender Matthew Biancaniello, but we got perfectly delicious libations from his colleague Chris Hewes, most notably a Mexican Rocket (tequila, agave syrup, lime and arugula shaken and served over a big rock). I was delighted to find out that Chris is the son of Jim Hewes, who has tended bar at Washington D.C.'s famous Round Robin bar (which I visited last spring) for many years.
Hungry Cat, Hollywood. I loved the Coney Island High: Applejack, rosemary caramel syrup, lemon, a few drops of absinthe, on the rocks.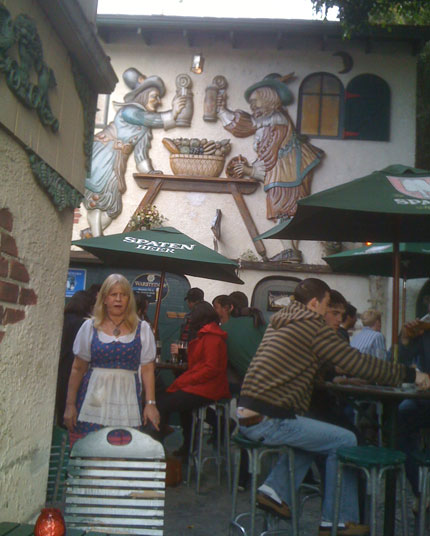 In between cocktails, quality beer drinking occurred at the wonderfully retro Red Lion Tavern in Silver Lake — a German beer joint with an outdoor garden and a neighborhood vibe — Father's Office in Santa Monica and the Venice Ale House on the beach. Finally, an early afternoon and an early morning were spent at the louche Kibitz Room in the famed Canter's Deli.
Thanks, L.A. It was fun.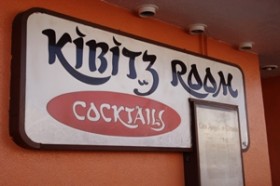 Tags: Cana, Elizabeth Taylor, Harvard & Stone, Kibitz Room, La Descarga, Red Lion Tavern, The Varnish
Posted in Cocktails, L.A. | 3 Comments »