June 17th, 2007
We drank L.A.
Scott and I recently spent a week in L.A., riding bikes along Venice Beach, going to the Tonight Show (Don Rickles!), catching a Dodgers game and visiting as many bars and restaurants as we could. Here's a back-of-the-napkin account of our Week in Drink: L.A. Edition.
Note: We did not go to any of the bars featured in the movie Swingers. I'm sure that the Dresden Room, the Derby, etc. are fun places, but they just didn't fit into our schedule or travel routes.
Beer bars
Father's Office, Santa Monica
The walls in this place are that blond-colored wood paneling that you'd imagine finding in a typical 1950s-era office in southern California. We were there for a full-on Sunday brunch crowd that couldn't have been friendlier — a couple at a table noticed us standing and invited us to sit with them. They were eating sweet potato fries "a la cart" — literally served in a miniature grocery cart with wheels. Excellent draught microbrews from Ale Smith, Anderson Valley, etc., plus one of the most genius things I have seen in any bar: a tap handle topped with a little fire hydrant that dispensed water.
The Library Alehouse, Santa Monica
A convenient walk from where we stayed in Venice. Good brews on tap, including a lovely, crisp Kolsch-style ale from the Alaskan Brewing Co. Narrow, sky-lit pub in front, private patio out back.
The Other Room, Venice
Hip beer and wine bar on hip Abbot Kinney Blvd. (The street is named after the tobacco mogul who founded Venice in the 1890s.) The bar is the latest in a slew of similarly named establishments (The Room, Another Room, etc.) begat by New York restaurateur Craig Weiss. High brick walls, low light, little nooks for group seating, black & white, urban-themed art on the walls, good beer and hot barmaids in tube tops.
Hotel bars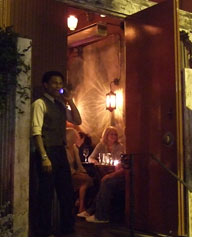 Bar Marmont, West Hollywood
"No, John Belushi died next door in the hotel," the bartenders at the Bar Marmont frequently must explain to clueless customers. This is a really exotic, odd, cool bar that sits adjacent to but not in the famed Chateau Marmont that has housed many a debauched celeb. To paraphrase one web reviewer, the place has a Vietnam-in-the-1930s feel. There's bamboo, a giant stuffed peacock, and, on the ceiling, hundreds of butterflies. Our bartenders, Joe and William, had the unflappable, dry manner of those who are accustomed to dealing with the antics of celebutantes, and this well behaved couple from Boston enjoyed an entertaining rapport with them. William actually lamented the sudden absence of customers like Lindsay (rehab), Paris (jail) and Britney (Crazytown), saying, "It's like all the bad kids had to go away to summer school" — leaving the rest of the kids to find their own fun. The cocktails here were pretty decent, even though a Martini and a Manhattan had the bejeezus shaken out of them (stirring remains a forgotten concept in most bars). I had a tasty, well executed Sunset Sour: Wild Turkey Rye, fresh lemon, splash of OJ, egg white and a splash of red wine served in a tall glass over large, sturdy rocks. (When I asked about this unusual ice, Joe informed me that the bar had recently invested in a $40,000 ice machine. Formidable!) Finally, we had the most awesome bar food here, including Boozy Bacon Prunes (!).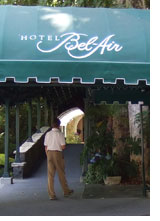 Bar at the Hotel Bel Air, Bel Air
You walk underneath the green-awninged entrance, past the swans floating in a tree-shaded pond, through a pink, sunlit dining terrace, and on to the bar: a dark, hushed, cool gentlemen's library. If you need a therapeutic break from the hubbub of L.A., have a drink here in the middle of the day. As we sipped our Manhattan and Kir Royale, we chatted with an incredibly pleasant barman from Minnesota who topped up our water glasses with Evian. You will pay a lot for your drink here, but it will be a drink to remember.
Shutters, Santa Monica
Shutters is a pretty, luxury hotel on the beach that often gets compared to hotels on Cape Cod or Martha's Vineyard. There's a little bar there that overlooks the many-windowed dining room, called 1 Pico (Shutters' address is 1 Pico Blvd.). If you want to have a glass of champagne and watch the sunset, this is the place to do it.
Old School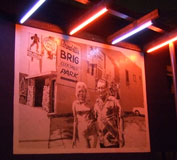 The Brig, Venice
A 50-year-old bar that, I'm guessing, used to be pretty rough before Abbot Kinney Blvd. turned into a hip commercial district. The place apparently underwent a makeover in the last year or so, and it has a sleek, updated retro-lounge feel that works well. The wide-open room has a long bar, a DJ booth, a pool table and low-lit, funky bathrooms. Our bartender was a laid-back gem of a guy who mixed up a decent Negroni and got us a dinner reservation at Dan Tana's (see below) through a friend of his who works there.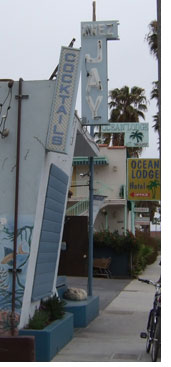 Chez Jay, Santa Monica
Great, tiny, historic haunt on Ocean Ave. Sawdust on the floor, dusty nautical decor, delicious cheeseburgers and cold Bud in bottles. Magazine articles covering a wall near the restrooms describe Chez Jay's celebrity encounters over the decades, including tales of Marlon Brando absconding with a waitress and Warren Beatty filming a scene for Shampoo in the back room.
Dan Tana's, West Hollywood
We walked into this classic, early-1960s-era L.A. landmark at 9:30 on a Wednesday night, and it was packed. The entryway was its own little party of people drinking Martinis and red wine, waiting for their turn to enter the small dining room and order Spaghetti Carbonara and Dabney Coleman Steak. The food is a tad overpriced, but you know that going in, because you're here for the whole package of the history, the vibe and the likelihood of spotting the famous — from movie stars to politicians. (No we didn't spot any celebs that night.) Dan Tana's greatest asset is its staff, whose speed, attention to detail and ability to control chaos is a lot of fun to watch. The head bartender, Michael, has worked here for 40 years. Every time I looked over at the bar, he was pouring shots of Averna and Fernet. He joined in on several of those rounds himself without ever diminishing his lightning speed. Awesome.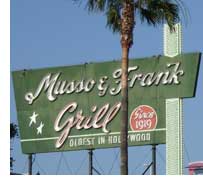 Musso & Frank's, Hollywood
The oldest of the Old Hollywood joints, this place opened right after WWI. Like Dan Tana's, the staff here dresses formally, even if the clientele doesn't. There are two large, high-ceilinged dining rooms with dark wood walls, one with a long, diner-style counter, the other with a traditional cocktail bar. We sat at the latter and ordered whiskey sours, which were good although inexplicably mixed in a blender. Meanwhile, I saw a few trays of Martinis and Gibsons go out to the dining room, and I'm here to report that these cocktails were stirred, not shaken. They were also served in the old-style, small glasses you never see anymore in this age of the Big Gulp candy-tini.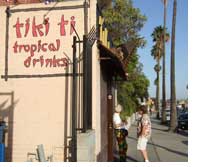 Tiki Ti, Hollywood
What a tiny, kooky, fun place. Twelve barstools, a half-dozen small tables, 86 kinds of tiki drinks. We were in a rush to get to Dodger Stadium, so I only had time to down half a Puka Puka (no idea what was in it, other than rum), but I managed to soak up the spirit of the place. According to Tiki Ti's website, "The bar was opened in 1961 by master mixologist Ray Buhen, who was there at the start of the Tropical Drink craze at Don The Beachcomber's legendary restaurant. His son and grandson, Michael and Mike Buhen now carry on his tradition; together, they practice the "Lost Art" of Exotic Cocktail mixing in the last of the great neighborhood tiki bars."