March 1st, 2009
A few spirited nips for you on this snowy Sunday…
Tremont 647 director of operations Joy Richard, aka Bourbon Belle of the Boston chapter of Ladies United for the Preservation of Endangered Cocktails, deserves a shout-out. She recently traveled to L.A. to compete in the Hendricks gin Marvelous Limerick & Cocktail Competition.
You may remember how Richard qualified for this gig: by winning Hendricks' Beantown Bartender Battle at Green Street last summer. Contestants mixed an original Hendricks cocktail that highlighted the botanicals used to flavor the gin, and they penned an accompanying limerick about their potion. Check out the recipe for Richard's drink, Nobody's Darling, and her limericks at LUPEC Boston's blog.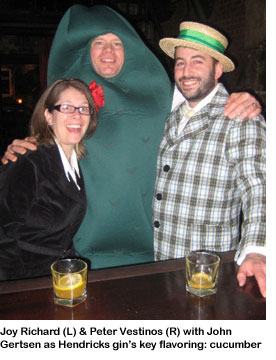 "The competition itself was in this incredible bar called the Edison, which I believe was L.A.'s first electric company. The space was like nothing I've ever seen," Richard said.
"We were judged on the following points: 1. costume (theme: Victorian Steampunk); 2. limerick; 3. cocktail name, and why you named it what you named it; 4. cocktail taste; and 5. showmanship."
Alas, our clever Bostonian did not take home the trophy that night. It went to Peter Vestinos from the Wirtz Beverage Group in Chicago for his drink, A Cotswold Afternoon.
Meanwhile, a group of amateur mixologists competed in TV Diner's annual cocktail contest on NECN. The entries in this competition fall largely in the silly-vodka-drink camp — first place went to the jailbait-appropriate Dreamy Banana Tini — but the classic cocktail revival made a showing with the second-place finisher, the Father's Advice.
"I couldn't believe that I placed at all. Seriously: gin and raw egg?" quipped the drink's creator, James Slaby, who has been a regular at drinkboston.com and LUPEC Boston events. He presents his cocktail — "halfway between a Ramos Fizz and a Gin Flip" — in this clip from the show.
Father's Advice (a morning-after tonic)
1 ½ oz Plymouth gin
¾ oz Baines pacharan (a Spanish cordial)
¾ oz fresh lemon juice
½ oz light cream
½ oz simple syrup
½ teaspoon Regan's Orange Bitters
8 drops Fee's Brothers Whiskey Barrel-Aged Bitters
1 fresh, whole egg
Healthy grind of fresh black pepper
1 dried star anise
Pour liquids into shaker half-full of cracked ice. Add egg and fresh pepper. Shake vigorously for 60 seconds. Strain into a well-chilled sour glass or rocks glass. Float star anise on top.
Finally, check out this Bostonist interview with Adam Lantheaume of the Boston Shaker, a first-of-its-kind boutique for Boston-area cocktailians that I wrote about not long ago.
Tags: cocktail contests, ingredients, LUPEC Boston, mixology, Recipes
Posted in Bartenders, Cocktails, Drinking supplies, Gin, Nips | 7 Comments »