November 28th, 2008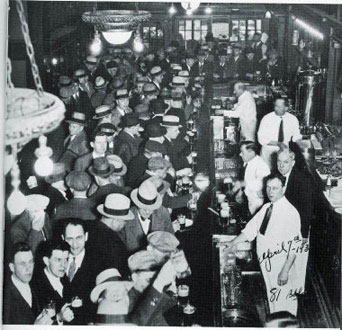 This December 5 marks 75 years since Prohibition was repealed, and Eastern Standard is celebrating this historic day with a blowout befitting the most extravagant speakeasies of the Roaring Twenties. (They've been celebrating all year, actually, with Prohibition-era cocktail specials.) The party starts on Thursday evening, December 4, and ends appropriately with a wee-hours-of-the-morning breakfast on December 5. If you're up for a splurge, or ready to demand an early Christmas present, I strongly encourage you to get tickets for this thing.
In fact, the ticket price of $120 per person is a pretty great deal. The evening starts at 6:30 with a "juice joint" reception featuring bathtub gin, hors d'oeuvres and live of-the-era music by Miss Tess. This is followed by a six-course dinner with cocktails (see below). At 10:00 p.m., the dancing starts, courtesy of Jazz Age tunes by DJ Brother Cleve. But wait, there's more: a 1:00 a.m. breakfast to fortify you after all that dancing and drinking. So, pull out those vintage threads you wore to the LUPEC Boston Tea Party last year and call 617-532-9100 or email for reservations. If you're strictly a late-night owl, arrive at 10:00 for only $40 per person.
Eastern Standard Repeal Day Six-Course Dinner
First Course: Ampersand Cocktail
Buttermilk Fried Oysters with Standard Caesar Salad and Pernod Remoulade
Second Course: Waldorf-Astoria's Perfect Martini
3 eggs, 3 styles
1) Thin, Toasted Rye Wheel, Smear of Meyer Lemon Cream Cheese, Caviar
2) White Truffle Scrambled (with shaved white truffle)
3) Deviled Egg
Third Course: Maiden's Prayer
Maine Lobster in Pastry with a Sherry Cream Sauce, Peas and Carrots
Fourth Course: The Scofflaw
Philadelphia Pepper Pot Stew
Lamb Neck, Sweetbread, and Cockscomb, Root Vegetables
Fifth Course: The Charles Lindbergh
Roasted Karabuta Pork Chop
Scalloped Potatoes, Housemade Sauerkraut
Dessert: Corpse Reviver #3
Pineapple Upside Down Cake with Cardamom Tapioca
Hope to see you there!
Tags: 1920s speakeasy party, December 5, Prohibition, Repeal Day
Posted in Cocktails, Events, Gin | No Comments »