January 20th, 2009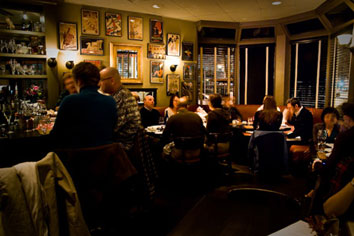 Established: 2008
Specialty: Cocktails, wine
Prices: Moderate to high
Atmosphere: A bustling, convivial bistro bar whose combination of cocktails, dining and service is unmatched in the Boston area. See Best Boston bars for address and contact info.
I rejoiced when I first heard that top chef Tony Maws was moving his Craigie Street Bistrot, just outside Harvard Square, to a larger site in Cambridge that would accommodate a full bar, and, more importantly, that that bar would be overseen by one Tom Schlesinger-Guidelli. Opened in late 2008, Craigie on Main (853 Main St., site of the former La Groceria in Central Square) answers the prayers of anyone who loves great restaurants but prefers the atmosphere of a bar to that of a dining room.
At the new place, Maws' culinary excellence and creativity are aided and abetted by Schlesinger-Guidelli's talents as a mixologist and barman. The two men make a formidable team. S-G, who developed an effortless (but disciplined) creativity during his time at Eastern Standard, is given free reign to practice his craft to the hilt. In addition to stocking quality spirits and using Kold-Draft ice, he makes many ingredients from scratch, such as a Carpano Antica replica for a Martinez or an amber vermouth for his own Camino Cocktail (amber vermouth, Rittenhouse rye, myrtle berry liqueur). He also looks to the kitchen for inspiration, pillaging herbs and other produce or bruléeing a sugar-coated tangerine before muddling it into a tequila-based drink. All the while, he mentors a young bar staff, passing on that combination of old-school expertise and understated good humor that distinguishes the best contemporary Boston bars.
The bar area consists of a dozen or so stools, plus a few café tables. Warm lighting, retro posters and lots of windows counteract my yearning for an interior with a little more soul. While the dinner menu is expensive enough to put Craigie on Main into the "special occasion" category, the food is fairly priced for the quality. Luckily, there's a bar menu for those wanting a more casual bite, and the drink prices are on par with other quality Cambridge restaurants: $9-$11 for cocktails, $4-$10 for beers (mostly craft and import) and $9 and up for wines by the glass.
Tags: bar chefs, Cambridge bars, chefs, creative cocktails
Posted in Boston bars | 6 Comments »