April 17th, 2009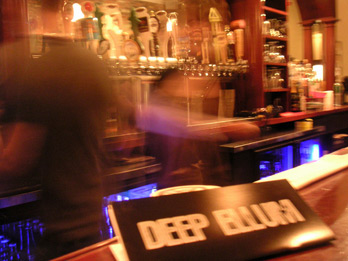 In the last post I mentioned that the annual Craft Brewers Conference is coming to Boston next week and that the event is spurring local beer bars to show hop heads what they got. Little did I know what an understatement that was. Turns out that Deep Ellum in Allston, in partnership with Shelton Brothers beer importers of Amherst, MA, are hosting what they're calling the First Annual Citizens of the World Party and what I'm calling the Most Amazing Gathering of Brewers in One Boston Bar. Seriously — Jean Van Roy of Belgium's fabled lambic brewery, Cantillon, will be there. He has never set foot in the U.S. before.
From Wednesday through Saturday, Van Roy and a couple dozen other artisanal brewers from Belgium, Germany, Scandinavia, Japan, England, Quebec and, of course, the U.S. will drop by Deep Ellum to schmooze and booze. They are responsible for most of the 80+ draught beers that will be tapped over the course of the four-day fest. (There'll be special bottled beers, too.) Brasserie de la Senne (Belgium), Mahr's (Germany), Ridgeway (England) and Dieu de Ciel (Quebec), plus the U.S. breweries Russian River (CA), Southampton Publick House (NY), Jolly Pumpkin (MI), Sly Fox (PA), Allagash (ME) and High & Mighty (MA), are just a sampling of the breweries represented. Check in with the Shelton Brothers blog for details and updates.
Each night has a theme: Wednesday is Welcome to the Craft Brewers Conference with BeerAdvocate; Thursday is East of the Mississippi; Friday is West of the Mississippi; and it looks like Saturday will be Day of the Belgians (check in with the abovementioned blog or with Deep Ellum about exact times). And last, but so not least, the Shelton Brothers and Dogfish Head are co-hosting a beer party Tuesday night at the Other Side Cafe on Newbury St.
Inform your friends in Allston that you are crashing on their couch next week, and come check this out.
Tags: artisanal beer, Cantillon, craft beer, Deep Ellum, world brewers
Posted in Beer, Boston bars | 7 Comments »