March 6th, 2008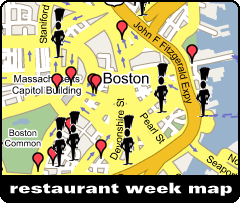 A little secret about Restaurant Week: while people who own restaurants may love it, people who work in restaurants don't. They complain about the hordes of newbie customers who expect a level of dining and service for their $30 that may be a bit unrealistic, and who then leave a modest tip on their modest bill. Hmm. I suspect that these hordes are actually a few bad apples who tend to stick in a server's memory until it all happens again next year.
Personally, I like Restaurant Week (March 9-14 & 16-21). A particular friend of mine and I take advantage of it every year and visit a restaurant we've never been to. We're always happy with our food and service. And, because we feel we're getting such a good deal on dinner, we start the evening off with cocktails and then order a bottle of wine with our meal. In short, we end up spending more on drinks than food, which is exactly what the establishments who participate in Restaurant Week are seeking out of this whole deal. So, if you're a drinker, start making your reservation now. Wherever you end up, your server will likely treat you with gratitude after dealing with all those menu tourists.
Check out BostonChefs.com's Unofficial Guide to Boston Restaurant Week for an A to Z list of participating restaurants. Several drinkboston profilees are on the list, including Bin 26 Enoteca, the Blue Room, Chez Henri, Eastern Standard, Les Zygomates, Mooo, Rialto and the Summer Shack. I will also recommend three other restaurants that happen to be workplaces of some of the ladies of LUPEC Boston: Flora, Toro and Tremont 647. Speaking of LUPEC Boston and Toro, they are teaming up for a March 30 event marking Women's History Month. Check their blog for details.
Tags: restaurant week
Posted in Events | No Comments »