March 31st, 2009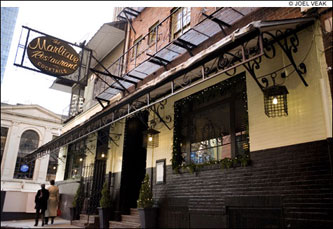 Established: 1885
Specialty: Cocktails, wine
Prices: Moderate
Atmosphere: A historic bar in downtown Boston that isn't a tourist trap and mixes classic cocktails? We're there. See Best Boston bars for address and contact info.
Drinkboston is wholeheartedly rooting for the new-and-improved Restaurant Marliave (10 Bosworth St. near Downtown Crossing), even though it still has some stuff to work out, vibe-wise. Chef Scott Herritt of the Grotto bought the 125-year-old establishment last year and reopened it as a three-level enterprise featuring an itty-bitty oyster bar on the first floor, a cafe-bar on the second floor and a fine-dining restaurant (with a small bar) on the third floor (3 floors + 3 bars = woohoo!).
The place is a historical, architectural treasure that I pray, given our economic predicament, can stick it out for the next few years to become a bulwark against the usual type of downtown Boston watering hole: corporate, expensive, dumbed-down. When people ask me, "I'm staying near Faneuil Hall, where can I get a good drink nearby?" and I have to tell them to get on the Red Line and go to Cambridge — well, that makes me mad. Now I tell them to go to the Marliave.
Herritt wanted his bar program to reflect the quality and thoughtfulness of his cooking (classic French, Italian, New England fare), so fresh-squeezed citrus and Kold-Draft ice became basics for a menu of classic and classic-influenced cocktails. (In fact, the Marliave was the first place in Boston to use Kold-Draft ice.)
Some of my faves are the Jennie Churchill (a good Manhattan, named after Winston's American mom, with Rittenhouse rye, Noilly Prat sweet vermouth and bitters, garnished with a Luxardo cherry), the FDR (a tall pitcher of gin martinis — this is where the Kold-Draft ice, which melts slowly, is crucial — with Vya vermouth that you can share with friends), and the Molasses Flood 1919 (Sailor Jerry rum, molasses, fresh lime, bitters). Bar manager Jackie Ross, who worked at the Grotto and, before that, the B-Side, brings solid experience and a no-nonsense style to the job. Two other B-Side alums, Christopher Duggan and Al Harding, pull a few shifts here, too.
On some nights, the Marliave feels like it's struggling to find energy. And sometimes — at least in the main bar, which is where I usually am — there's a palpable lack of personality, which is only exacerbated by a too-large TV behind the bar. But I'm calling these quibbles for now. I wish the Marliave all the luck in the world, because downtown Boston needs it.
Tags: downtown Boston, historic bars, Marliave
Posted in Boston bars, Cocktails | 21 Comments »