July 3rd, 2010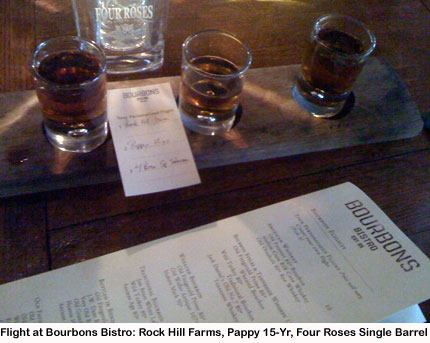 The Kentucky bourbon trail is were you learn all about how bourbon is made. But to really drink the stuff, head to Louisville — that's where the bourbon bars are. Here are some brief reviews of those "urban bourbon trail" bars, as well as a couple spots in Midway and Frankfort that are well worth a visit.
Bourbons Bistro. It's "bourbons," plural. Boy, is it ever. You sit at the bar and contemplate a wall of 130+ different bottles. You peruse the lengthy menu, including several of the flights it helpfully suggests. Then you consult your knowledgeable but laid-back bartender, who tailors a flight to your exact desires. You kick back, sip the tawny goodness, and eavesdrop on what everyone else is ordering. You wish you could come back every night for at least a week to sample even half of the bourbons here, soak it up with high-class southern tavern food, and decompress to the tune of Kentucky accents.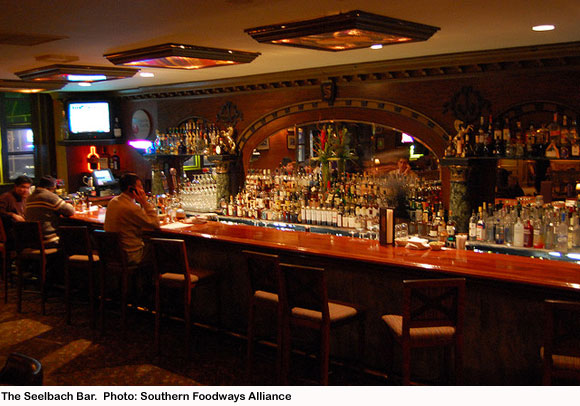 The Old Seelbach Bar. A fixture on numerous "best bars" lists, this landmark hotel watering hole has over 40 bourbons on the back bar. The Seelbach is a grand, early-1900s-era hotel whose plush rooms seem like a real value compared to similar accommodations in bigger cities like New York and San Francisco. I splurged on a room there and happily nursed my bourbon hangover with a giant plate of biscuits and sausage gravy in bed. The one bummer about the Seelbach Bar: like Locke-Ober and its sub-par Ward Eight cocktail, this establishment serves the worst example I've ever encountered of its signature Seelbach cocktail — too much liqueur, semi-flat sparkling wine, and only a wan expression of bourbon and bitters.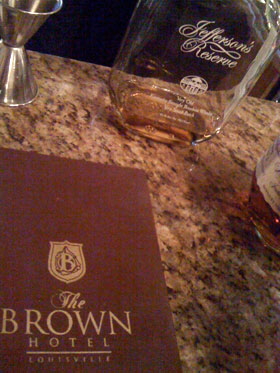 The Brown Hotel Bar. This is in the opulent, marble-enclosed lobby of Louisville's other grand, old hotel, built in 1923. The comparatively tiny bar nonetheless carries a wide selection of bourbons. I sipped on a Jefferson's Reserve (a very small-batch whiskey launched by writer and bourbon historian Chet Zoeller) and struck up a conversation with the bourbon drinker sitting next to me. He turned out to be an Australian linguist and alumnus of my daytime employer (MIT) who teaches theater in prisons. This is why I go to bars.
Proof on Main. Proof that Louisville has a hip side. This cocktail bar and restaurant is part of the 21c Museum Hotel — a boutique hotel in a historic, stone building whose lobby houses kick-ass contemporary art installations. I had a delicious Gold Rush — Woodford Reserve bourbon, honey syrup, lemon juice — and would have taken a flight of a few of the 50+ bourbons on the menu had it not been lunchtime. I have to shout out to Bill Samuels Jr., president of Maker's Mark, for taking me to Proof (and bringing me down to Kentucky to taste the new Maker's 46). It's not every day that I get to talk about bourbon and bourbon tourism with a rocket scientist-turned-lawyer-turned-distiller who deserves much of the credit for the reemergence of bourbon as a premium spirit over the last 30 years.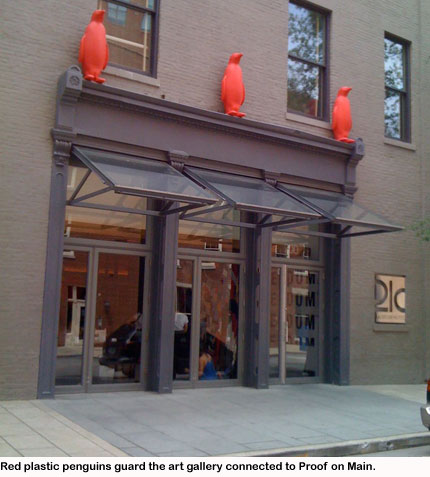 Bistro La Belle. This fine restaurant and cocktail bar in Midway, which is only a 15-minute drive from either Frankfort or Lexington, is soooo worth seeking out. Midway is a) a picturesque town of under 2,000 where a railroad runs smack down the middle of Main Street and b) a gathering place for an international clientele connected to the business of breeding and racing horses. Walt Mates, who became a fan of drinkboston a few years back while he was transitioning from bookstore owner to classic mixologist, welcomed us to his bar and mixed us real-deal Singapore Slings and Palomas before we sat down to an absolutely delicious dinner. Thanks again to Walt and owner Laura Wolfrom for your hospitality (and for recommending a nightcap at the pleasantly dive-y Dragon Pub on the Kentucky River in Frankfort, where we had shots of Buffalo Trace's downmarket aged bourbon — Ancient Ancient Age, or "Triple-A" — with Bud chasers and listened to the karaoke contest taking place upstairs).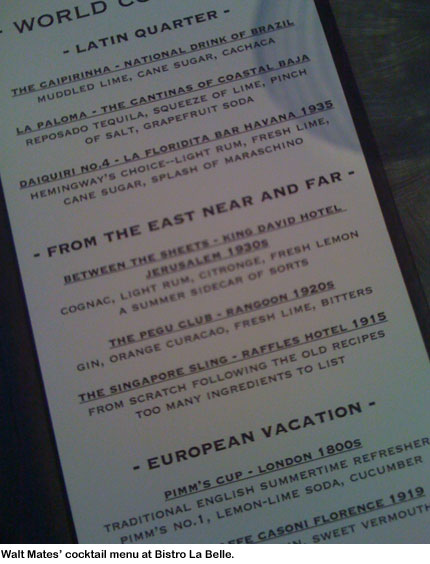 Tags: Bill Samuels Jr., Bistro La Belle, bourbon, Bourbons Bistro, Brown Hotel, Frankfort, Kentucky, Louisville, Midway, Proof on Main, Seelbach Hotel
Posted in Cocktails, Whiskey | 3 Comments »