June 27th, 2010
I drank the Kentucky bourbon trail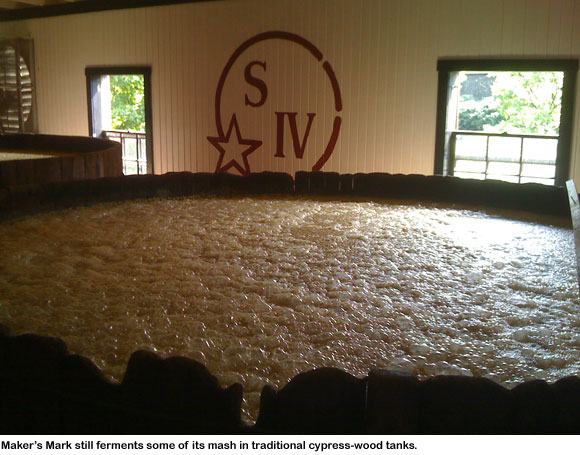 Here's what I learned when I drank the Kentucky bourbon trail: 1. I like bourbon. 2. So do a lot of other people. The state's 10 distilleries are well aware of this, of course. They're priming for continued growth — not just in consumption, as more and more people around the world appreciate a fine, aged American whiskey, but also in tourism, as more and more people around the world start to view the triangle between Louisville, Frankfort and Bardstown like Napa Valley. That's the idea, anyway.
First, some context about our most prized native spirit. Up until the turn of the millennium, bourbon, with a couple exceptions, had been in serious decline. It was an old-man drink, often with "old" right on the label. By 1997, consumption had fallen to fewer than 13 million cases, less than half bourbon's total in 1980. But by 2009, the alignment of our aspirational taste for good food and drink with the advent of boutique bourbons had turned consumption back around to roughly 18.6 million cases and growing. That growth is driven both by the top-selling premium brands Jim Beam, Wild Turkey, Evan Williams and Maker's Mark, and their high-end siblings like Booker's, Eagle Rare and Van Winkle. (Jack Daniels, which is not a bourbon but a Tennessee whiskey, dwarfs all of these brands. A few years ago, it surpassed Johnny Walker Red as the world's largest-selling single whiskey brand. But that's another story.)

Some interesting tidbits about the bourbon world
Everyone claims to be the oldest distillery. Don't even try to keep track — it doesn't matter. Distilling has been going on in Kentucky since it was settled in the 1700s, and chances are bourbon was being made on most of these sites, continuously or sporadically, for a very long time. By the way, there were hundreds of distilleries in the state before Prohibition. That fateful experiment, followed by World War II, industry consolidation and the U.S. shift in taste away from bourbon in the late 20th century, cut that number down to today's 10.


Everyone knows each other. Every time we left one distillery for another, we were told to "say hello to Al," or "say hi to Jimmy for me." And the old Kentucky distilling families are intertwined. Bill Samuels Jr. (of Maker's Mark) and his sisters grew up playing with Beam kids, for instance, and the Beam family tree has branches that have touched many distilleries past and present. Notable among these is Heaven Hill, which has long been owned by the Shapira family but has employed three generations of Beams as master distillers.

Most of Kentucky's bourbon distilleries are owned by liquor conglomerates or large holding companies. That's just the spirits business these days — don't hold it against them.

Bourbon may owe its life to Japan, Europe and Australia. These and a few other key countries accounted for a good chunk of bourbon's market share during the stagnant years and have fueled its growth in the past 20 years or so.

Here's a handy cheat sheet on bourbon: what it is, its different flavor profiles, small-batch vs. single-barrel, etc.


The trail
The official Kentucky Bourbon Trail was established by the Kentucky Distillers Association (KDA) in 1999. However, I refer to the unofficial bourbon trail, because not all Kentucky distilleries are part of the KDA and therefore aren't listed on the official trail.
Joy Richard (aka Bourbon Belle of LUPEC Boston) of the Franklin Cafe, the Franklin Southie and the soon-to-open Citizen Pub, which will feature a whiskey bar, was my partner on this expedition. Like me, she enjoys asking geeky questions about bourbon by day and drinking bourbon by night. We unfortunately could not hit all of the distilleries in Kentucky. We missed Jim Beam, Woodford Reserve and the new Tom Moore distillery, along with the Oscar Getz Museum of Whiskey History in Bardstown. Hey, that gives us a few very good reasons to head back soon. Here's a cheat sheet on the distilleries we visited, and their bourbons.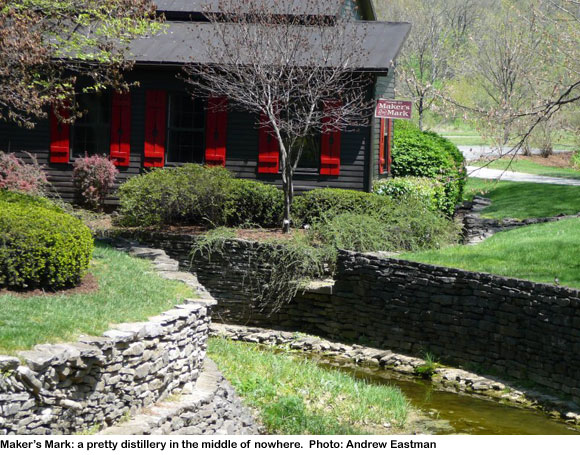 Maker's Mark, Loretto
Owned by: Fortune Brands
Whiskies: Maker's Mark, Maker's 46
National Register of Historic Places
In a nutshell: The distillery's storybook-like setting pretty much put bourbon tourism on the map, attracting over 90,000 visitors a year. Highlights: dipping my finger in various stages of sour mash fermenting in cypress-wood vessels that some Kentucky distilleries keep around for show (the bulk of fermentation happens in stainless steel now); tasting different stages of Maker's Mark as it aged in the rickhouse; tasting the new Maker's 46; learning that Marjorie Samuels, wife of the distillery's founder, came up with the bourbon's name and designed its label and red wax-sealed bottle.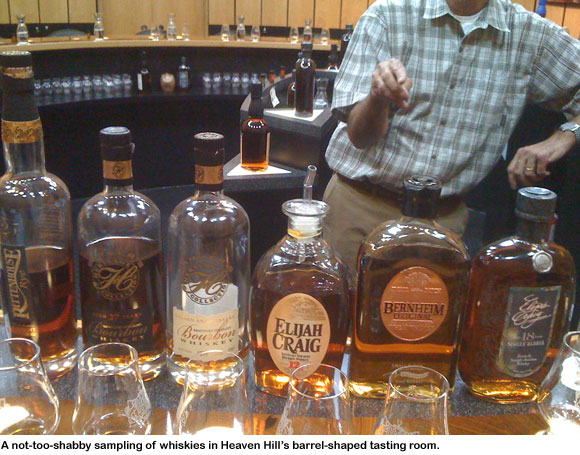 Heaven Hill, Bardstown, Louisville
Owned by: Heaven Hill Distilleries, Inc.
Whiskies include: Evan Williams, Elijah Craig, Parker's Heritage Collection, Fighting Cock, Old Fitzgerald, Bernheim wheat whiskey, Rittenhouse rye whiskey, Pikesville rye whiskey.
In a nutshell: Heaven Hill's huge rickhouses  boast one of the largest inventories of aging whiskey in the world. The distillery upped the bourbon trail ante in 2004 when it opened its Bourbon Heritage Center in Bardstown, complete with a museum of bourbon history and barrel-shaped tasting room. Highlights: inhaling angel's share in one of HH's seven-story rickhouses; tasting rarities such as the 27-year-old Parker's Heritage bourbon (an almost cognac-like exception to the rule that bourbon of such age tastes like wood chips) and 25-year-old Rittenhouse rye. Woohoo!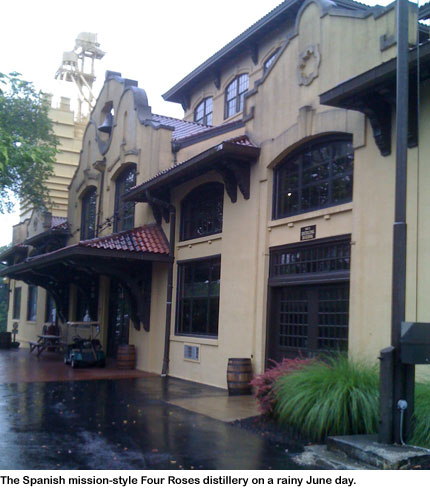 Four Roses, Lawrenceburg
Owned by: Kirin Brewing Co. Ltd.
National Register of Historic Places
Whiskies include: Four Roses Yellow, Small Batch, Single Barrel, Limited Edition and Mariage Collection.
In a nutshell: Very pretty (and unusual) Spanish mission-style buildings dating from 1910 house this distillery. Four Roses was one of the biggest-selling bourbons in the U.S. from the 1930s-1950s. Then its parent company, Seagrams, essentially took the brand to Japan, where it remained until the early 2000s. Now it's making a deserved comeback. Highlights: learning about how Four Roses uses two mashbills (grain recipes) and five yeast strains to create different flavor profiles with which to blend its whiskies; tasting the deliciously dry Four Roses Single Barrel.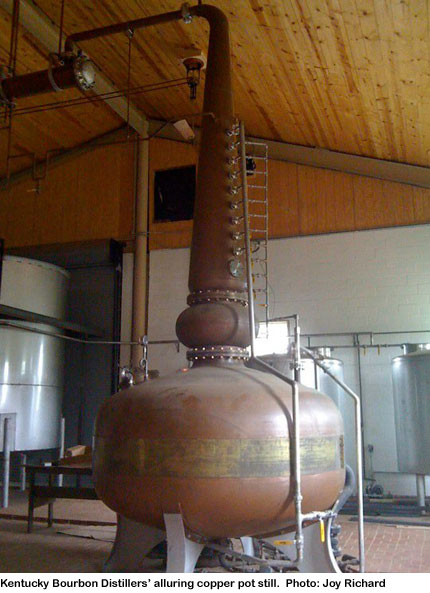 Kentucky Bourbon Distillers, Bardstown
Owned by: Kentucky Bourbon Distillers, Ltd.
Whiskies include: Black Maple Hill, Noah's Mill, Rowan's Creek, Willett, Johnny Drum
In a nutshell: Even Kulsveen, a Norwegian who married into the Willett family that established a distillery on this site after Prohibition, runs this boutique operation with his son, daughter and son-in-law. Finally nearing completion on a many-years-long rebuilding of the distillery, Kulsveen has built his reputation on blending great craft bourbons from casks procured from other distilleries. Highlights: getting an impromptu tour by the family behind this mysterious operation, including Kulsveen himself, who apparently is famous for his reclusivity.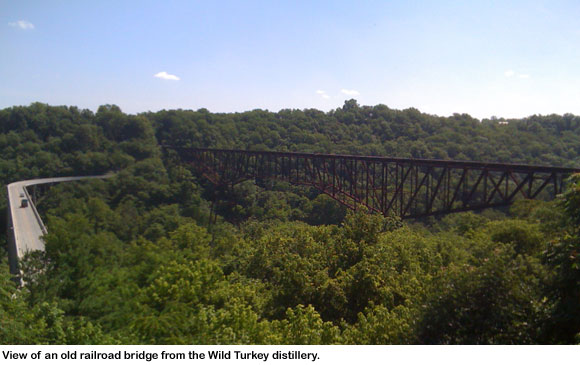 Wild Turkey, Lawrenceburg
Owned by: Gruppo Campari
Whiskies include: Wild Turkey 80 and 101, Rare Breed, Russell's Reserve, Kentucky Spirit
In a nutshell: Mostly built in the 1930s, this romantically industrial distillery looks like something out of a promotional film for the WPA. A new distillery under construction will double Wild Turkey's capacity. Highlights: seeing a load of corn spill out of the underbelly of a truck into an underground holding vessel before being conveyed up into tall silos; climbing to the top of the building that houses the tall column still and tasting the white dog (unaged whiskey) coming out of it before stepping onto a deck overlooking a cool, old railroad bridge.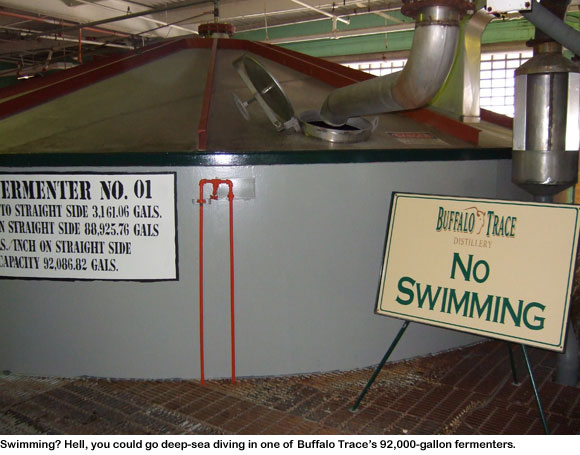 Buffalo Trace, Frankfort
Owned by: Sazerac Company, Inc.
Whiskies include: Buffalo Trace, Blanton's, Sazerac, Eagle Rare, Van Winkle, W.L. Weller, Ancient Age
National Register of Historic Places
In a nutshell: Located on what was once an ancient buffalo trace, or crossing, on the banks of the Kentucky River, Buffalo Trace has several brick buildings dating back to the late 1800s. It is large but charming, and its visitors center features lots of great, old photos of bourbon distilling. Highlights: peering into the frighteningly deep 92,000-gallon, 1930s-era fermentation tanks; inhaling angel's share in the distillery's historic 1800s-era Warehouse C; witnessing the bottling of Blanton's single-barrel destined for Australia.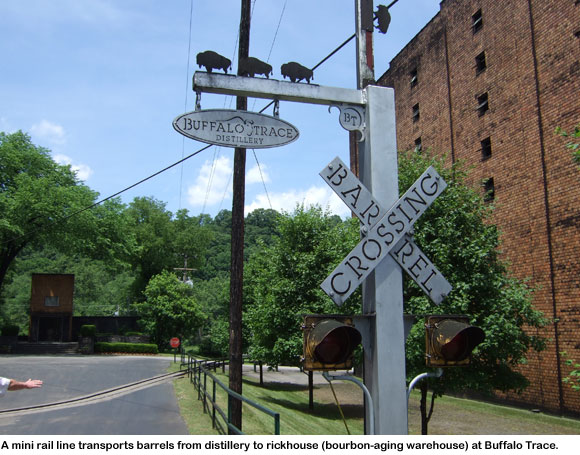 Permalink | Filed under Whiskey | Tags: bourbon, distilleries, Kentucky