June 10th, 2006
The rare Seelbach sighted at Chez Henri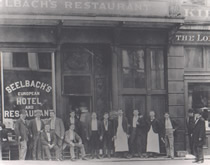 Recently, after a kindly bartender at Eastern Standard sent me home with a bottle of hard-to-find Peychaud's bitters, I mixed my first Seelbach, a bourbon-and-Champagne-based cocktail born in 1917 at the Seelbach Hotel in Louisville, Kentucky. Oh my god, was it good. I assumed I would never encounter this rare drink outside my own living room. Then one night I met Scott Holliday, bar manager at the Cambridge restaurant Chez Henri. When he took my order, I simply told him that I liked whiskey drinks. A few minutes later, he placed a bubbly, reddish cocktail on my bar napkin — a Seelbach! I wanted to marry the guy. I'm a sucker for drinks that top spirits off with Champagne. Mysteriously, the bubbles both accentuate and mellow the bourbon and bitters, and as a whole the Seelbach conjures up dueling memories of wedding toasts and camping trips. Try this recipe:
The Seelbach (from Gary and Mardee Regan's New Classic Cocktails)
1 oz bourbon
1/2 oz Cointreau
7 dashes Peychaud's bitters
7 dashes Angostura bitters
5 oz Champagne
Pour the liquor and bitters into a Champagne flute and stir. Add Champagne and stir again. Garnish with an orange twist.
Note: I prefer to stir the liquor and bitters lightly over ice and then strain them into the Champagne flute before adding the Champagne. It makes a pleasantly chilled drink that is not so cold or watered down that it dulls the spirits' character.
Permalink | Filed under Boston bars, Cocktails, Whiskey |