June 20th, 2009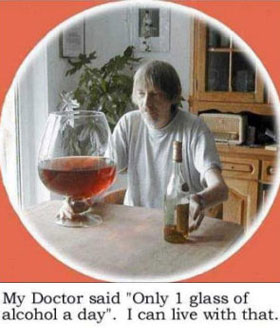 » As I prepare to make my third annual trip to New Orleans for Tales of the Cocktail, two New York Times articles this week combined in my head to form a timely and contradictory message: "Booze is bad for you. New Orleans is good for you." The first article, Alcohol's Good for You? Some Scientists Doubt It, looks skeptically at studies that show health benefits from moderate drinking. The takeaway is this: "It may be that moderate drinking is just something healthy people tend to do, not something that makes people healthy." If you're reading this, I'm guessing you figured that out a long time ago. I'm guessing that, even if you are a moderate drinker (one drink per day for women, two for men), you aren't drinking for your health, but because it's fun. Imagine — doing something that confers no benefit other than fun!
» Which segues perfectly into the second article, The Way of the Bayou, about New Orleanians being completely out of step with "progress" and not fretting about it one bit. "While the rest of us Americans scurry about with a Blackberry in one hand and a to-go cup of coffee in the other in a feverish attempt to pack more achievement into every minute, it's the New Orleans way to build one's days around friends, family, music, cooking, processions, and art. For more than two centuries New Orleanians have been guardians of tradition and masters of living in the moment — a lost art." This is a rosy view of the city, but there's truth in it. It's something you pick up on pretty quickly when you're down there, especially during an event as joyously frivolous — and bad for your health — as Tales of the Cocktail.
» Speaking of Tales, the event culminates in the annual Spirit Awards, which recognize the best bars, bartenders, writers, brand ambassadors, products, etc. in the cocktail world. This year, Drink has been nominated for Best New Cocktail Bar. Cross your fingers and hope for the best, 'cause Gertsen and co. deserve to win.
» Some Boston bar proprietors received a strange promotional item this week: a tasteful looking box with the words "Thanks for nothing" on the outside and an empty bottle of Knob Creek bourbon on the inside. An accompanying letter explains that consumer demand has literally drained the barrels dry, and it thanks the recipient for "helping make it happen." As Dave Barry would say, I am not making this up. The letter continues, "We ask for your patience and your continued support. We plan to capitalize on this temporary shortage by creating customer communications and conducting outreach that underscore Knob Creek's commitment to quality. Working together, I'm sure we'll all be even more popular and profitable once supply is restored."
Ooooh. Commitment to quality. Working together. Popular and profitable. The boutique bourbon market is wielding some fancy PR! The letter should've just said, "If you're paying $10 more a bottle than you used to for our bourbon, bless your soul. By the time supplies are replenished, your customers will be used to paying the higher price. Genius!"
» And good gawd, y'all, MC Slim JB (food/drink critic and occasional contributor in this space) just posted There's a riot going on in the cocktail world, an eloquent tribute to and smart summation of the rise of the craft cocktail scene in Boston. If you're a regular here, a lot of the nuts and bolts of what he's saying will already sound familiar, but his thoughtful take on things is well worth checking out. As he explains, his food-oriented audience and writing peers are often surprisingly ignorant of what's been going on for the past several years, drink-wise. It's time they knew.
Tags: alcohol, health, Knob Creek bourbon, Tales of the Cocktail 2009
Posted in Booze in the news, Boston bars, New Orleans, Nips | 6 Comments »