August 30th, 2008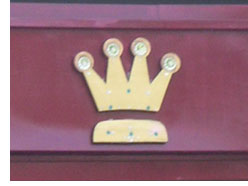 I was respectfully holding off reporting about the B-Side Lounge's imminent closing, but the news is more-or-less officially out. Boston-area dining critic (and drinkboston contributor) MC Slim JB started a thread about the matter on Chowhound last week. On Thursday, the Globe's Dishing blog broached the subject.
It is true that the B-Side is being sold. The buyer is apparently Daniel Lanigan, who has long been seeking a Boston-area spot for a sibling to the two western-Mass. beer bars he owns: the Moan and Dove in Amherst and the Dirty Truth in Northampton. As far as I know, the date for the switchover has not yet been set, though the word is that it could take another month … or two or three.
People have reacted strongly to this news, and rightly so. The B-Side is a great bar — great cocktails, great bartenders, great vibe. Not only that, the B-Side is solely responsible for reviving the classic cocktail in Boston. There are at least a half-dozen places around the city where you can get, say, an Aviation. In 1998, there was only one. I join the many mourners who will grieve when the B-Side gives its last last call.
That said, the bar on the corner of Windsor and Hampshire streets in Cambridge is not going to be occupied, as some commenters have anxiously speculated, by 'some lame sports bar.' Lanigan's beer bars are pretty kick-ass, with a vibe every bit as genuine as that of the B-Side. Scott and I make a point of drinking at the Moan and Dove whenever we're out that way. I have only one request for the new proprietor: Daniel, I now you've been to Deep Ellum, which is the first beer bar in Boston to also serve classic cocktails. Make yours the second bar to do this, and I think we'll all be happy (eventually).
I'll post updates on the switch from B-Side to beer bar as they come my way. And stay tuned for a "save the date" for an informal drinkboston gathering there.
Tags: B-Side lounge, bar closings, beer bars
Posted in Boston bars | 11 Comments »