February 16th, 2011
Tequila cheat sheet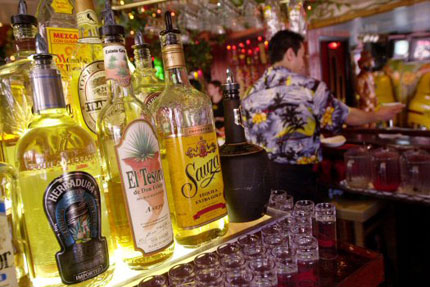 When it comes to tequila, I plead ignorance. If I'm lucky to be in the hands of a knowledgeable bartender or agave enthusiast, I happily let him/her guide me toward whatever's right for a given cocktail (be it a traditional margarita or a Jaguar) or neat nightcap with beer chaser. But when I find myself confronting, without a lifeline, that overgrown jungle of tequila bottles on the back bar of your modern-day high-end Mexican restaurant, I balk — especially when the bartender can only describe what's in each bottle with various synonyms for "awesome."
So I asked a few experts to break things down for me: Misty Kalkofen, Drink bartender and cocktail consultant who has studied agave spirits extensively; Andrew Deitz, sales rep with the wine and spirits wholesaler M.S. Walker; and Phil Ward, owner of the NYC tequila bar Mayahuel.
First, it's widely agreed among spirits aficionados that 1) only rubes drink Cuervo Gold — a mass-marketed "mixto" (a mix of agave-based spirit and neutral alcohol akin to rum) masquerading as premium hooch — and 2) only poseurs drink Patron, which pioneered the premium-tequila category but is now an overpriced shadow of its former self.
Kalkofen says that the Cuervo, Patron, Sauza, Herradura and Don Julio brands make up about 90 percent of the U.S. tequila market. Patron, she adds, was a distinctive tequila when it was produced by the Siete Leguas distillery in the 1990s. But in 2002 the brand opened its own distillery, which now produces a smooth but unremarkable tequila whose price tag ($50 for añejo) is based entirely on its earlier legacy and classy corked bottle. Deitz, who recently advised the new Fort Point cantina Papagayo on its extensive tequila selection, says he would choose, for instance, the very reasonably priced Lunazul Blanco ($25) over Patron.
Sauza, of course, can be found in the well of any bar that bangs out margaritas of the frozen-strawberry or sour-mix-in-a-pint-glass variety. And if you thought Don Julio and Herradura were artisanally legit, think again — they've reportedly both been dumbed-down by their fairly new owners, the liquor conglomerates Diageo and Brown-Forman, respectively.
The hot growth in demand for 100-percent-agave tequila has attracted large producers and their often corner-cutting ways, and a lot of trusted brands are changing. "Good tequila is a dying breed," laments Ward, who points to Herradura as a case in point. "Herradura is the saddest story in the world," he says. The once-family-owned distillery produced a sizable quantity of reasonably priced, quality spirit. But Brown-Forman replaced the traditional method of extracting agave sugars — slowly roasting whole agave hearts, or piñas, in a large oven — with diffusers, in which the piñas are shredded raw before being "basically microwaved," says Ward.
In a good tequila, Kalkofen says she is "looking for roasted agave flavor. With a diffuser, the flavor gets watered down." Of course, that "watered down" flavor is exactly what many new labels hoping to cash in on the premium-tequila market are going for. A bland spirit in a nice bottle is intended to win over the brand-conscious vodka drinker.
Connoisseurs tend to judge a brand of tequila by its unaged version, e.g. blanco, silver or plata. Reposados (aged 2-11 months) and añejos (aged 1-3 years) "are only as good as the juice being put in the barrel," says Kalkofen. Deitz agrees that wood-aging, while important, is not as big a deal as either the production process or the terroir — whether the agave comes from the highlands or lowlands, or from the primary tequila producing region of Jalisco vs. the lesser-known Tamaulipas. As for the extra-añejo classification (aged more than 3 years), Deitz says, "It can be a bullshit category, as many of the uber-expensive bottlings are actually artificially flavored."
So, what brands do these connoisseurs recommend to people who are looking for good-quality, flavorful tequilas? Here's your cheat sheet, amigos, with prices for each brand's blanco and some helpful tasting and terroir notes thrown in by Deitz:
Chinaco ($50) – from Tamaulipas. Briny, citrusy.
Don Roberto ($47) – masculine, powerhouse style.
El Tesoro ($49) – highland tequila, known for high acidity and aromatic, herbal components.
Lunazul ($25)
Milagro ($25)
Ocho ($55-$70) – producer of unusual single-vintage tequilas.
Partida ($41) – lowland tequila, known for round, rich fruit character.
Pueblo Viejo ($28)
Siembre Azul ($35)
Siete Leguas ($36) – highland tequila, known for high acidity and aromatic, herbal components. Highly regarded in Mexico.