November 9th, 2010
Scott Marshall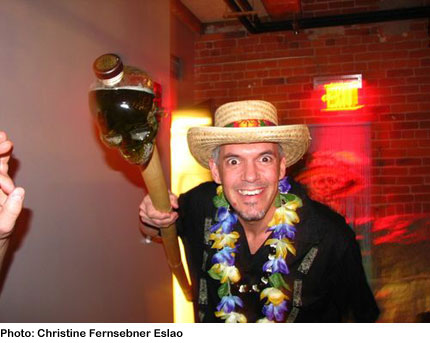 Bartender profile
Confident, handsome and affable, Scott Marshall could've stayed at one of his former gigs — CityBar or Beehive, say — racking up "beloved bartender" awards and impressing the hell out of people who read Boston magazine. Instead, he got serious about mixology and joined the staff at Drink, where, as principal bartender, he has become a formidable talent. He combines a regular-guy knack for pleasing a range of human specimens with a fine-tuned palate for mixing exquisite cocktails.
Like his Drink colleague Misty Kalkofen, Marshall chose the bartending profession over the one for which he earned a master's degree: accounting. He started down that career path not only because of innate math skills but because, growing up in rural Maine, "the person in town who made money was the accountant." But he quickly discovered during his first job behind the stick, at the PourHouse ("class of '99"), that tending bar was way more fun than accounting. "I never spent a day in a cubicle," he beams.
He was working at the Oak Bar one day when Ryan Magarian of Aviation Gin came in and asked the free-pouring Marshall to make a series of measured cocktails. While Marshall was confident of his drink-making skills at that point — he had attended a James Beard Award dinner on the strength of a pomegranate-cucumber take on a Southside — this experiment with consistency and balance was eye-opening.
Once at Drink, he took full advantage of that establishment's extensive training and advanced quickly, winning a scholarship to and acing the rigorous BAR spirits and mixology course. He can put his own spin on the complex layers of a classic tiki drink and show a 50-pound block of ice who's boss. At the same time, he's the guy who brings a skull full of Chartreuse to a bartending competition and who, with flirtatious gusto, fulfills the request of a group of Boston Opera House-bound cougars for six shots of tequila and one shot of chilled vodka.
Hometown
Stonington, Maine.
Past bartending jobs
Silvertone, CityBar, Beehive, Oak Bar, Cali Terra, PourHouse, Halfway Cafe.
Favorite bar in Boston other than your own
The one where a good friend is working that night.
The drink you most like to make
Old-fashioned Old Fashioned at Drink.
The drink you least like to make
Bloody Mary, anywhere, anytime.
Most memorable cocktail request
"My buddy over there left his wife for another woman. The other woman told him today that she never wants to see him again. We need two drinks … with bourbon."
A famous person you've served
Paul Newman.
What you say at last call
If you're not aware of what time it is, you don't need another.
What you drink at the end of your shift
Reading Pennsylvania lager.
Worst bartending job you ever had
I've learned a lot everywhere I worked. It's all timing.
If you weren't a bartender, you'd be…
A beach bum.
Least-appreciated alcoholic beverage in Boston bars
Allen's Coffee Flavored Brandy — fuck Kahlua!
Most overrated alcoholic beverage in Boston bars
Grey Goose [vodka] and Patron [tequila].
The best or worst pickup technique you've ever observed
Sending a girl a drink through the bartender from across the room. Grow a pair … get up and do it yourself.
The biggest myth about bartenders is…
That a customer has a chance of picking one up. I don't know of a successful relationship that began with a customer giving their number to a bartender. We usually date each other!
Permalink | Filed under Bartenders | Tags: Scott Marshall