July 28th, 2010
Trina Sturm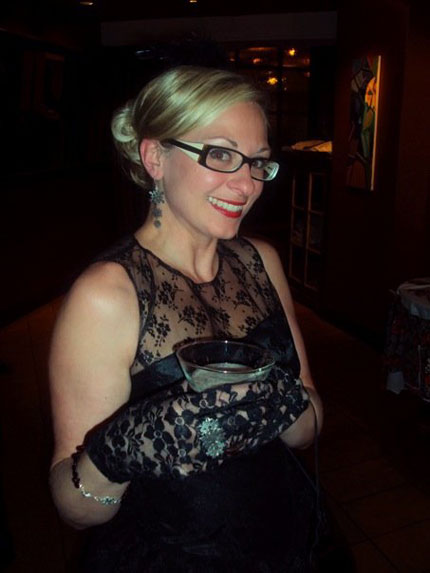 Bartender profile
Trina Sturm is a cross between a sexy stew in a Mad Men episode, a kindhearted biker-gang chick, and a diner waitress who calls you "hon" and magically appears whenever your coffee needs a warm-up. It's a formidable combination that has won loyal fans all over the city.
Trina is the namesake of Trina's Starlite Lounge, the bar that she and her husband Beau dreamed of owning over the many years they spent working the stick in others' establishments. At nightclubs like CityBar, Trina learned the all-important skills of speed and diplomacy. At the Beehive she was among an all-star cast of 'tenders who graced the opening of that artsy jazz club, and at Silvertone she meshed with owner Josh Childs' laid-back hospitality — meshed with it so well, in fact, that they are now business partners.
As Trina sees it, she has got it made. "I work with the biggest workaholics. I consider myself smart — I just come in and bartend." And that's a very good thing for anyone who occupies a stool at the Starlite, especially on the parlor side, where Trina particularly shines. With efficiency and perfect posture, she exerts a den mother's control over the chaos, at the same time taking a moment to banter with guests. She's not a mixologist, but rather a bartender who can mix a good drink — whether it's an Old Overholt Manhattan with a twist or a candy cane-infused brandy. And as professional as she appears, you just know there's going to be dancing on the bartop after hours.
Hometown
East Boston/Winthrop.
Past bartending jobs
CityBar, Silvertone, Beehive.
Favorite bar in greater Boston other than your own
Eastern Standard.
Favorite bar in or near your neighborhood
Highland Kitchen.
If you weren't a bartender, you'd be…
A mom.
The drink you'd like to serve more of
Pimm's Cup.
The drink you'd like to serve less of
Ramos Gin Fizz.
A famous person you've served
Jason Varitek.
A famous person you'd love to see walk into your bar
Garrett Dutton III, better known as G. Love.
A bartender's best friend is…
The barback.
The best thing about drinking in Boston is...
Being served by friends.
The worst thing about drinking in Boston is…
Beings over-served by friends.
Permalink | Filed under Bartenders | Tags: Trina Sturm, Trina's Starlite Lounge