July 12th, 2009
Postcard from Tales '09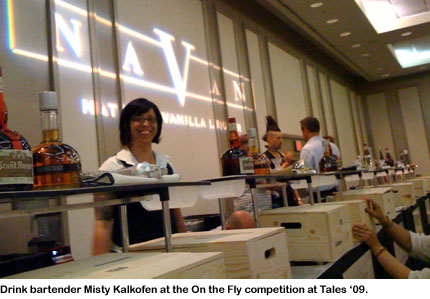 Hello, Boston. Wish you were here in New Orleans. Having a fabulous time. Highlights:
Agave, agave, agave. So many drinks here this year with good tequila and mezcal.
Seminar on how to promote your brand or bar through blogs. Moderator Paul Clarke did a bang-up job with this one, which conveyed to PR folk that they need to get a little more sophisticated in cultivating coverage in the blogosphere.
Seminar called World's Biggest Bar Crawl with Simon Ford and Angus Winchester, two British gin ambassadors who have traveled the world a few times over and experienced some of the world's best bars. Wow, did I want to book an open-ended, global airline ticket after this one.
Two amazing meals at Cochon, including one with a little appetizer of pig's head for eight.
On the Fly bartending competition: eight bartenders from around the U.S. competed mixing cocktails with a box of ingredients presented to them Iron Chef-style. Giuseppe Gonzalez (creator of the Trinidad Sour) of Dutch Kills in Queens won, and our own Misty Kalkofen of Drink took second — hooray, Misty!
Attending the Spirit Awards and cheering on John Gertsen and the other bartenders of Drink, which was nominated for World's Best New Cocktail Bar. Alas, Clover Club of Brooklyn won, but all the Beantowners present were pleased that Boston is being recognized as a great cocktail and hospitality town.
More to come soon. In the meantime, check out my posts for the Tales collaborative blog.
Permalink | Filed under New Orleans |