October 30th, 2008
Vote Independent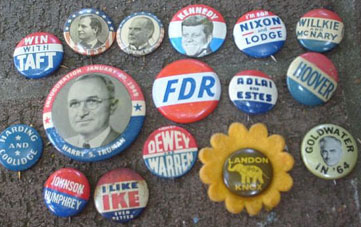 Let's be serious for a minute. Once we vote on election day 2008, the only thing we can do is sit back and watch history happen. The grueling tension of this millennium's first three presidential contests has made a lot of people understandably skittish about the outcome next week. But I'm beseeching you: this year, don't stay home with your head under the bedcovers, or watching cable news while drinking gin straight out of the bottle. Cast your vote, take a deep breath, and commune with your fellow citizens at one of Boston's best bars: the Independent.
The Indo and drinkboston are teaming up for an election night happening where you can watch the state-by-state returns on TV, eat a free snack and have a chance to win a $25 gift certificate by showing up wearing what is deemed the best political election garment or accessory. And we're not just talking "Change we can believe in" or "Country first" T-shirts. We're talking vintage buttons from the Kennedy-Johnson campaign … boater hats with red, white and blue ribbon … Eisenhower earrings.
Oh, yes, and the featured libation with which we'll anoint this "Where were you when…" moment? The Ward Eight — and for only $5! I know I can't shut up about this cocktail, but come on — not only was it invented for an election (110 years ago, to be exact), it's Boston's best-known drink. And it's damn good when made properly (as the Indo's bartenders do), with rye whiskey, fresh lemon juice and real pomegranate grenadine. Of course, you can also eat and drink as usual from the Indo's regular food, cocktail, beer and wine menus.
It all starts on Tuesday, November 4 around 5:30. No need to RSVP — just show up. And don't forget to vote!