October 30th, 2006
Drinking in the old and new in NYC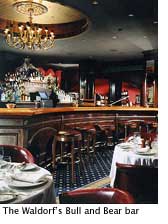 On a brief trip to Manhattan last week, we experienced two different eras of New York City cocktail culture. Still giddy from our discovery of the Marconi Wireless, we headed to the Bull and Bear bar at the Waldorf-Astoria (Lexington Ave. and 49th St.), the grand, old hotel where the drink was invented early last century. It was about 7 p.m., and we found a standing spot at the crowded, wraparound bar that is the centerpiece of the room. A stock ticker's red, digital letters scrolled by on one wall, and the people sitting at the bar seemed to be serious about their drinking. I guess out of a lack of faith that the Waldorf's modern bartenders would have an encyclopedic knowledge of the obscure cocktails invented there, we played it safe and ordered Manhattans. These came in huge stemmed glasses and were very cold and very good, if lacking a little in bitters. I wouldn't want to do it every day, but once in a while, it's fun to pay the $15-per-cocktail admission fee to chill out in a plush, steeped-in-history bar staffed by polite older men in ties.
The next night, it was a polite younger man in jeans who took care of us at East Side Company (49 Essex St. near Grand St.), a new East Village bar that is to the Bull and Bear what Scarlett Johansson is to Bette Davis. To be honest, we wound up there because we couldn't get into East Side Co.'s nearby older sibling, Milk and Honey (134 Eldridge St.), a fabled "speakeasy" with no sign and an unlisted phone number. Along with Little Branch, these two bars comprise a mini-empire of intimate drinking dens established by Sasha Patraske, a mixologist-consultant a la Dale DeGroff (King Cocktail).

You enter East Side Co. through a heavy door that is almost indiscernably built into a wooden facade. You then find yourself in something like a windowless dining car lined in shiny, pressed tin and lit mostly by candles. The drink menu here is intentionally limited to about 15 cocktails, including fruit cups (i.e. a variation on a Pimm's Cup), highballs, and standards. We started with a Presbyterian (bourbon and ginger-beer highball) and a Martini. When I ordered my Martini, I experienced the novelty of not being asked, "vodka or gin?" Our bartender, Anthony, simply made the drink as it would have been made 50 years ago — with gin. As at Milk and Honey, the barkeeps at East Side Co. freshly crack blocks of ice for each cocktail. A jagged-edged cube chilled my significant other's second drink, a Manhattan, as he sipped it; Scott wasn't sure about this method at first but took a shine to it once the cube had a chance to melt a bit. My second drink, a Negroni, was perfect, burnt orange peel and all. We were the only customers in the place; it was a Tuesday night and also way too early for the usual cool cats who frequent this bar. So, we exchanged life stories with Anthony, a native Chicagoan who is invited to drink with us up in Boston any time.