September 28th, 2006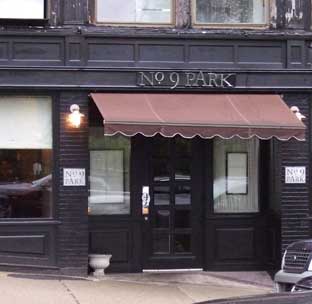 Established: 1998
Specialty: Cocktails, wine, beer
Prices: High
Atmosphere: The small, low-ceilinged bar area is lively in a low-key, sophisticated way. The decor is sleek and subtle to a fault, but the lighting is warm and the drinks, food and service are so good that your surroundings fade into the background.
See Best Boston bars for address and contact info.
Chef-owner Barbara Lynch deservedly gets a lot of accolades for her food (she's consistently rated among the Northeast's top chefs) and her business acumen (her No. 9 Group now includes two other successful restaurants, B&G Oysters and the Butcher Block, plus catering and produce outfits). But no one has trumpeted the way Lynch advanced mixology in this town by staffing No. 9 with bartenders who are as serious about cocktails as she is about food. Until now, that is.
It seems that a lot of chef-restaurateurs try to foodie-up their drink menus to match a style of cuisine. "Hey, I'm doing pan-Asian food, so I'm going to have my bartenders mix cocktails with lemongrass and ginger." This practice tends to involve a lot of drinks made with vodka, which serves as a blank canvas for trendy flavorings. Instead, Lynch hires talented people and lets them do their thing. The bartenders are well versed in the wide world of classic cocktail ingredients — spirits, liqueurs, bitters and vermouths, plus egg whites, juices, syrups and other mixers — and they know how to combine them to create a drink that can stand on its own and complement your Gorgonzola Fondue.
Other perks of No. 9: you always get a taste of wine before you commit to buying a whole glass, and there are some fine items on the beer list, like Boon Gueuze from Belgium, Trois Pistoles from Quebec and Schneider Weisse hefe-weizen from Germany. The service is attentive but not overbearing, and the bartenders know the trick of creating a sense of community at the bar without intruding on any party's privacy. The drawbacks of No. 9? You will drop some pretty serious cash here, but what did you expect for this level of quality? Cocktails range from $9-$12, wines by the glass from $7-$16, and beers from $4-$10. So, for a couple of cocktails, an entrée from the bar menu ($17-$24), and a glass of wine with your dinner, plus a 20-percent tip, expect to spend around $70. The other drawback? The bar has only a dozen seats. Find something to celebrate on a Tuesday night and get there early.
Posted in Boston bars | 1 Comment »