August 13th, 2009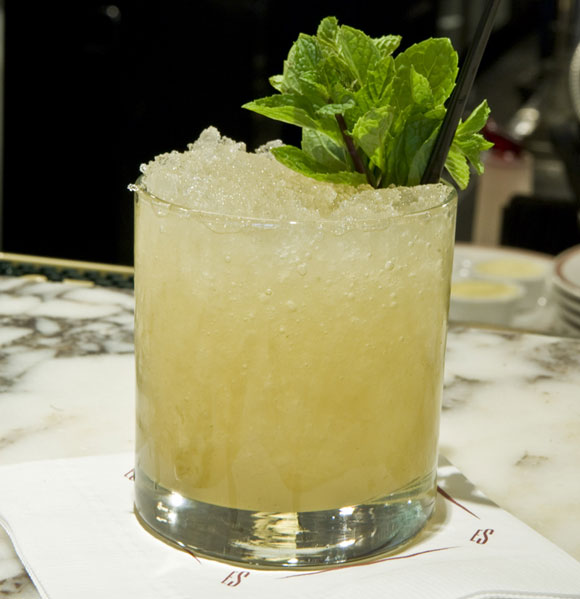 I just want to say to anyone who thinks they have to stay home this Sunday night to see Old Overholt's debut on Mad Men: you know you can watch it the next day on On Demand, right? And what better thing to do when hungover on Whiskey Smashes than watch 1960s ad men sit around their office drinking all day?
This Sunday night, Eastern Standard is celebrating the fact that it has sold 21,000 (!) Whiskey Smashes since opening in 2005. These classic cocktails take, like, five minutes to make. They're filled with lots of crushed ice, good bourbon, fresh-squeezed lemon juice, and a little simple syrup muddled with mint. The delicious and potent drink has done much to introduce restaurateurs all over the city to the idea that they can put a few whiskey drinks on their clear spirits-dominated menus without scaring away their clientele. In fact, some of their clientele just might like this.
I don't know how McDonald's celebrated when they sold their one millionth cheeseburger, but it wasn't as cool as this: Starting at 7:00 p.m., Eastern Standard will throw a Whiskey Smash party that features the making of the largest Whiskey Smash ever; different iterations of the drink made with Chartreuse, peach, Cognac and rum; and guest bartenders and chefs from around Boston. Tickets, which include food and one Smash, are a steal at $30 (they can be purchased beforehand at the bar). If you've been to an event at ES before, you know that these people do not slack off when it comes to showing their guests a good time. So, for the love of god, get off the couch and over to Kenmore Square Sunday night.
See you there!
Tags: eastern standard, Whiskey Smash
Posted in Events, Whiskey | 4 Comments »