May 26th, 2008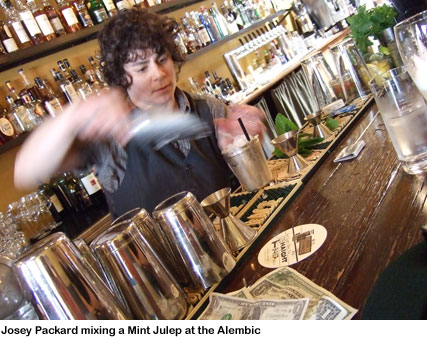 Going out on the town in San Francisco with Josey Packard would be fun even if she didn't know every great bartender in the city. She and her missus, poet Jill McDonough, are smart, funny good-time girls whom I feel I've known much longer than the brief time we've spent bar-hopping.
A senior staffer at the Alembic Bar in Haight-Ashbury, Josey is something of a celebrity in West Coast mixology circles. (In another life, she was a member of the band Chelsea on Fire.) I spent Sunday afternoon witnessing her busy brunch shift. The Alembic has a worn-in, saloon-like vibe, with a display of vintage pharmacy flasks and three very long shelves of liquor bottles: dozens of different types of rye, bourbon and Scotch whiskey dominate the shelf space, though anything you need to make a vintage cocktail, including house-made grapefruit wine and infused syrups, is also on hand. The cocktails, made with hand-cracked heavy ice cubes (a cocktail-friendly form of ice not yet found in Boston bars) and served in beautiful German glassware, are mostly priced at a very reasonable $9.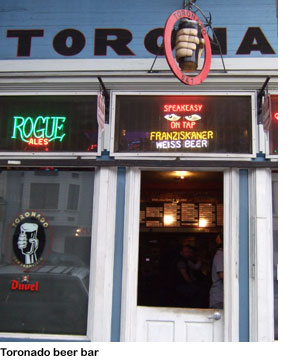 When I took my stool, Josey announced, "The white peaches are in. I can make a proper Bellini." Honestly, I've never had a Bellini that grabbed me, but I trusted her and was rewarded with a blushing, sparkling, fresh-peachy potion that was delicious. Then Jill came in and ordered a Mint Julep. Josey proceeded to fill an ancient-looking canvas bag ("She sewed it herself," Jill whispered to me) with the hard ice cubes and whack the hell out of it for about two minutes, in order to have the ideal crushed ice for the Julep. Jill told me that once, a guy at the bar looked on incredulously at this violent bashing, causing Josey to quip, "We have a mouse problem."
After Josey finished her shift, she donned her New England Patriots ballcap (see last paragraph) and off the three of us went. First stop was the Toronado, a must-visit beer bar with great West Coast brews from Russian River, Moonlight, Anchor, etc. The place was crowded, the bathrooms were predictably smelly, the bartender had long, grey hair, and snarky, stick-it-to-the-man bumper stickers covered the wall behind the bar. Perfect.
Next was Nopa for dinner and cocktails. This swanky, spacious new joint was chock full, but we were ushered to a booth as soon as the bar staff recognized Josey. Restaurants in San Francisco are all about using local flora and fauna for their cooking. We were served the chickeniest roast chicken I've ever tasted, along with some yummy beans, asparagus and farmer's cheese. I had a fine cocktail called a Minero: Quebrante Pisco, St. Germain elderflower liqueur, fresh lemon juice, egg white and "sunshine bitters," about which the only thing I know is that they were made with a copious quantity of peppery cardamom ("Hippy-ass" homemade bitters, Josey and Jill conjectured).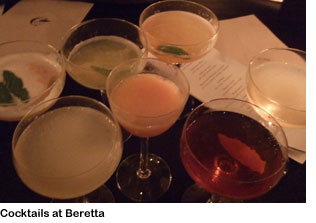 We ended up at a brand-new place in the Mission district. "Word is that the best action is now happening at Beretta," Paul Clarke of Cocktail Chronicles told me. The action was impressive indeed. Beretta's a sleek, modern-looking place with a long, communal bar just behind the main bar. It reminded me a little of NYC's Death & Company. John and Jill, the husband-and-wife owners, are well known in the craft-bartending scene and were both mixing cocktails (with the same type of Kold-Draft ice used at the Alembic). I had an Improved Whiskey Cocktail (inspired by a recipe in Jerry Thomas' famed bartening guide): rye, Dubonnet, absinthe, maraschino and bitters, straight up. Good medicine with which to end the evening.
Luckily for me and all my fellow Boston-area lushes, Josey and Jill are moving back to Beantown, where they spent several years before moving out west. That means Josey will likely be mixing drinks at a bar near you come autumn. But in the meantime, stay tuned: There's lots more bar-hopping to do while I'm here: Bourbon & Branch, Cantina, the Tonga Room, etc., etc. Not to mention Savoy Tuesday at the Alembic, at which Josey and her colleagues scrap their regular cocktail menu, put a copy of the Savoy Cocktail Book on the bar, and encourage patrons to choose any of the 1,000+ cocktails listed within. Looking forward to that insanity.
Tags: alembic bar, beretta bar, josey packard, nopa restaurant, toronado bar
Posted in San Francisco | 4 Comments »