September 26th, 2007
The Mrs. Jones Cocktail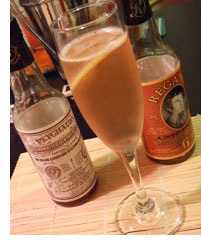 A friend of mine recently asked me to create a cocktail for her wedding. I was honored. I immediately began imagining cognac and champagne mixtures with fresh citrus and exotic liqueurs. Then my friend forwarded me the contract from the bartenders she had hired for the occasion. That brought me back to reality. How do you create a festive, wedding-worthy cocktail out of the raw materials found in the standard Marital-Industrial Complex bar setup (a phenomenon that persists no matter how fancy or distinctive the wedding)? You break out the bitters, that's how.
You know the kinds of booze I'm talking about: Canadian Club, Seagram's VO, a couple types of vodka, and liqueurs that were big in the '80s, i.e. Peachtree Schnapps. No bourbon, no cognac and, obviously, no fresh citrus juice. There'd be gin and champagne, though, so I decided to work around those. My friend loves French 75s, after all.
I realized that the cocktail would have to be very simple, given that I would need to batch up the spirits beforehand and transport them to the wedding myself in my Executair 101; there was no prayer that the speed-pouring M.I.C. bartenders would follow a recipe, even if I supplied the called-for ingredients. I could only rely on them to chill the spirit mixture and top it with champagne. Since I love the combination of bitters that make another champagne cocktail, the Seelbach, so distinctive, I thought I'd use two kinds of bitters to bring my gin-champagne mixture to life. After a few experiments, I settled on a 2:1 proportion of Regan's orange bitters and Peychaud's bitters.
The bride-to-be sampled my creation and proclaimed it worthy of toasting her union with a man named Jones. I think it's pretty tasty. See for yourself:
The Mrs. Jones Cocktail
makes 2 drinks
1 oz gin
1 tsp simple syrup
4 dashes Regan's orange bitters
2 dashes Peychaud's bitters
Champagne
Shake first four ingredients in a mixing glass with ice and strain into 2 champagne flutes. Top with enough champagne or sparkling wine to make the cocktail light pink. Drop a very thin slice of lemon into each glass.
Endnote: I went to cocktaildb.com, and the only other drink I could find that combines orange and Peychaud's bitters is:
The Metropole Cocktail
1 1/4 oz cognac
1 1/4 oz dry vermouth
1 dash Peychaud's bitters
1 dash orange bitters
Add cherry
Stir in mixing glass with ice and strain into a cocktail glass.
Permalink | Filed under Bitters, Champagne, Cocktails, Gin |