January 4th, 2009
Even though Scott and I have lived pretty much our entire lives in New England, we had never been to the cute ski-resort town of Stowe, VT until this past Christmas-New Year's holiday. We did all the things one does in Stowe: ski (downhill and cross-country), skate, shop, eat cider donuts and drink lots of local beer, mostly Switchback and Rock Art.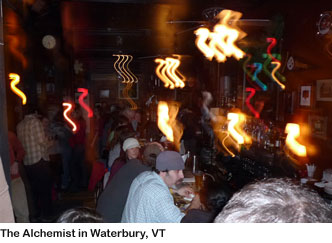 As is the case in most touristy areas of the world, the best (and best-priced) eats and drinks are a bit off the beaten path. In our case, that meant driving to the neighboring town of Waterbury. We arrived at the Alchemist, a brewery-restaurant, on the Sunday after Christmas at around 7 p.m. and were told there'd be an hour-long wait for a table. A good sign, of course, but very bad news for our hungry group. Lo and behold, after our first round of beers, a few seats opened up at the bar.
The Alchemist has a lot of the traits that make Vermont so loveable: a charmingly hippy vibe, local art on the walls, a dedication to using local ingredients, and fresh, well-made beer — some of the best New England beer I've had, in fact. The Pappy's Porter was a nice cross between the English-style brown and robust, roasty versions of this style. The Nightstalker, a Belgian-style dark wit, had a malty complexity on top of the traditional coriander and orange peel flavors, and the Holy Cow IPA was a pleasingly herbal, resin-y hop bomb.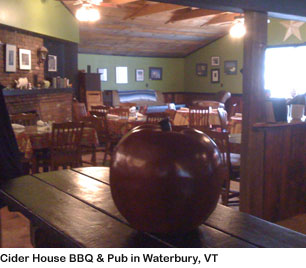 Wandering around looking for lunch on a freakishly warm, rainy day, we stumbled upon another place in Waterbury, the Cider House BBQ & Pub. The establishment, only about a year old, specializes in southern-style cooking and hard cider (on draught and in bottles). Although barbecue aficionados would turn their noses up at the distinctly sweet, New England-type sauce on the ribs and pulled-pork, the food was tasty and, as at the Alchemist, as local as possible. The sides and appetizers — cornbread-and-Andouille-sausage stuffing, Vermont cheddar mac and cheese and, my favorite, fried dill pickle chips — were reason enough to seek the place out. That, and the warm, cozy vibe and sassy waiter, who teasingly anticipated a big tip after hearing that we had splurged on a rental in the heart of Stowe Village.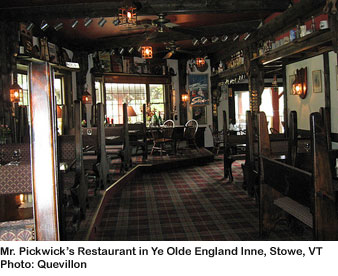 A really good place to drink beer in Stowe has an unfortunately twee name: Ye Olde England Inne. But the inn's restaurant, Mr. Pickwick's, is a warm, welcoming homage to an Old World pub, and the draught beer selection includes hard-to-find specimens like Anchor Christmas (both 2007 and 2008 vintages), Belgian abbey ales and a rotating selection of cask ales. The beer-selector and owner, a Brit named Chris Francis, walks around the place unobtrusively checking in on customers and engaging them with a sly sense of humor.
Finally, a shameless but honest plug for one of the best-known places in Stowe, which happens to be managed by my cousin, Brian Clark: the Cliff House. It's a grand dame of a restaurant perched on a cliff at Stowe Mountain Ski Resort, and you have to take a gondola to get there. Like the Alchemist and the Cider House BBQ & Pub, the Cliff House is part of the local-ingredient-espousing Vermont Fresh Network. It stocks Otter Creek, Magic Hat and other Vermont beers, and serves cocktails made with local maple liqueur. While it's as pricey as you'd expect a mountain-top restaurant at a major ski resort to be, the range of options includes affordable items like soups, sandwiches and salads, plus you can always just order a drink at the bar. If you happen to be skiing at Stowe, it's well worth the splurge. Nothing like lunch with a view.
Tags: Stowe, Vermont bars
Posted in Beer | 3 Comments »