August 20th, 2008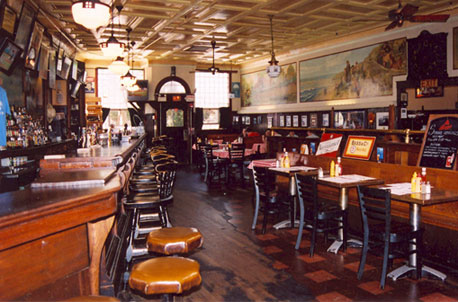 Established: 1882
Specialty: Beer
Prices: Low to moderate
Atmosphere: The oldest Irish pub in Boston, established long before Irish pubs became cute. Jamaica Plain inhabitants of various stripes drink Guinness and Sam surrounded by a living timeline of WWII-era artifacts and shrines to Boston pols from Mayor Curley to Mayor Menino. See Best Boston bars for address and contact info.
"Authentic" is mostly an empty buzzword these days, but it's the best word to describe Doyle's Café, which celebrated its 125th birthday last year. The only way this neighborhood saloon could be more authentic is if people could still smoke in there. The Olde Tyme Kitsch that some pubs pile on to make it look like they've been around for a while is so commonplace that, when you go to Doyle's, you have to remind yourself: 'Hey, that's a real WWII Buy a Bond poster. That linoleum has been eroding from the hardwood floor since the mid-'50s. And that portrait of JFK has been hanging there since '61.' It's understandable why scenes from several Boston-themed movies and TV shows have been filmed here.
And then there's the political memorabilia. That began to appear around 1971, when the brothers of Gerry Burke, who was working for Boston Mayor (and Doyle's patron) Kevin White, bought the bar from the Doyle brothers. The Burke and Doyle families had long been acquainted, most notably when Gerry's grandfather supplied Doyle's with bootleg liquor during its speakeasy days. Now owned by Gerry Burke, Jr., Doyle's has expanded over the years, and two of its dining areas are named after John F. "Honey Fitz" Fitzgerald and Mayor Thomas "Mumbles" Menino, the latter of whom was a Doyle's customer before his days on Beacon Hill. In fact, Doyle's is so passionate a custodian of Boston politicians' legacies that it has actually put out a series of historical pamphlets on the city's mayors from Honey Fitz onward.
Doyle's boasts of having a wide variety of draft beer, including sample kegs of new brews from the nearby Sam Adams pilot brewery (Boston Beer Co.), plus cask ale. However, the last couple of times I visited, there was no experimental Sam and nothing on cask. And I found the overall selection of domestic craft beers pretty underwhelming compared to what's available in Boston's better beer bars. A Guinness and a shot of Irish whiskey is your best bet. I have never eaten here, but the fact that they serve breakfast, lunch and dinner every day (brunch on Saturdays and Sundays) is remarkable given that few neighborhood pubs do that anymore. Doyle's is about a mile across town from JP's newer, hipper drinking establishments. Start here and work your way there. Or vice versa.
Check out two Jamaica Plain Historical Society articles on Doyle's.
Tags: boston, history, irish pubs, jamaica plain, politicians
Posted in Boston bars | 6 Comments »