September 21st, 2008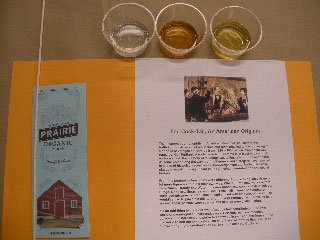 By Jacqueline Church
Jacqueline Church, a freelance food writer who pens the Leather District Gourmet blog, recently attended one of Slow Food Nation's first Slow Spirits workshops. Jacqueline explains, "The essence of the Slow Food movement is to re-connect us with our food producers. The 'Slowies' want us to savor regional, sustainable food, to build fair food systems, and to talk, eat, drink and share — over food and wine. But what about cocktails?"
I attended the Slow Food Nation Come to the Table event over Labor Day weekend in San Francisco. I enjoyed some sips and learned quite a bit.
1.  You can spot a "meeting" anywhere. You know what kind of "meeting" I mean.
All the "respecting anonymity" stuff aside, I could spot these guys a mile away. Several cheery hellos! and then, finally, a guy said to me, "Are you one of Us?"
Then I knew I was right. It was an AA meeting. After successfully dodging conscription, I made it to my meeting. How ironic that the Slow Spirits workshop was scheduled in the same building, at the same time, as an AA meeting. Of all the gin joints…
2.  Spirits just graduated from the Slow Food kiddie table.
Slow Food Nation needed persuading that spirits should be allowed to Come to the Table, literally. Imagine, they had to defend their right to be there. (More about rights in a moment.) As much as wine (which Slow Food invited to the table from the beginning), spirits are a product with direct consequences for the environment, the workers that produce it, and the people that consume it.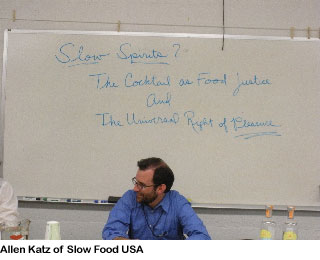 Allen Katz, board chair of Slow Food USA, and Gregory Lindgren, owner of Rye Bar in San Francisco, note that leading bars began furthering the art of the cocktail by using fresh, seasonal fruit. If that doesn't exactly make them Slow Food Royalty, it does elevate the cocktail from an Archie Bunker brew to a quality culinary experience. Our Prairie Mary, for example, was made with organic, local Early Girl tomato juice, ancho chilies, rosemary and Prairie Organic Vodka (distilled in Minnesota with local, organic grain).
3.  The Godfather of the American Cocktail was Jeremiah P. Thomas.
"The Alice Waters of his time," according to Katz. He was, by all accounts, quite the entertaining and industrious barman. He wrote one of the first bartenders' guides, called The Bon-Vivant's Companion (1862), and invented cocktails (and claimed to have invented even more). He is credited with elevating the bartending occupation to where it has recently returned.
4.  There is something called a "Universal Right of Pleasure."
Maybe that was covered in the poli-sci class I never took. A universal right? Really?
That was actually part of the workshop title: Slow Spirits — Food, Justice and the Universal Right of Pleasure. The "Food, Justice" part was more palatable for me than the so-called "Universal Right" part. It's a nice idea, but I'd hate to look a starving child in the face and tell him about my universal right to have a cocktail. Then again, if I had to look a starving child in the face, I'd need a cocktail. Probably several. Mother Theresa, I'm not.
5.  Demonstrating the validity of slow spirits' right to be, we learned about parallel aspects of food and spirits' production.
Just as some farmers are farming organically without paying for the certification process to acquire the official label, so it is with liquor producers. Safe to say many workshop participants were surprised to learn that the second of our tasting samples was Maker's Mark — not a brand that touts its green cred by selling its story with a green spin.
Maker's Mark uses locally grown grains (corn, wheat, barley). Their distillery sits on a state-certified nature preserve, and they return water to their spring cleaner than when it was extracted. They re-use or recycle the spent grain (keeping local pigs and cows happy) and harness the energy of anaerobic digestion to power their stills. Kudos to Maker's Mark for not bludgeoning us with how green they are. But they are!
This was a well-rounded evening. Like any good night at the watering hole, I walked away happier and with insights I didn't have before the evening began.
Jacqueline provides more details on the spirits featured in the workshop here.
Tags: Maker's Mark, organic, Slow Food, sustainable
Posted in Cocktails, San Francisco, Vodka, Whiskey | 1 Comment »