July 14th, 2010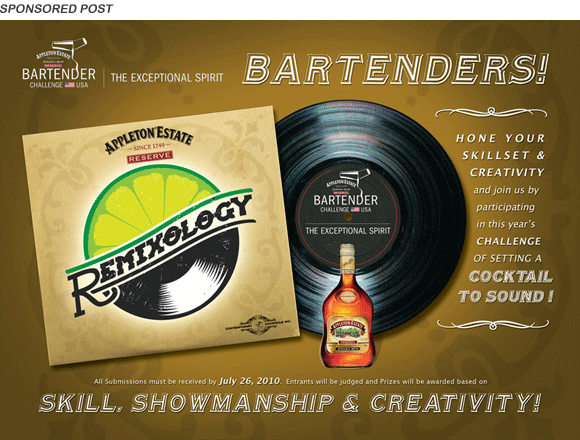 Boston bar professionals, think of a song that really grabs you — one that makes you want to jump up on a table and sing into an empty beer bottle, or slow-ride in a convertible down Mass Ave., or grab a dark-haired stranger in a Buenos Aires cafe and do the tango. Translate that song into a cocktail with Appleton Estate Reserve Jamaica Rum. Submit your recipe and the tale of its musical inspiration by July 26. Why? You could win a trip to Jamaica — and global renown.
There are cocktail contests that are about chops and style, and there are cocktail contests that are about mixology and heritage. Then there's Remixology. The brainchild of former Boston bartender Willy Shine and his consulting company, Contemporary Cocktails, Remixology mashes both traditions together — to the tune of your favorite song and featuring a quality rum. Here's how it goes:
Once all submissions are entered by July 26, 15 contestants will be chosen and featured on the Appleton Reserve Mixology Challenge and Contemporary Cocktails websites and in press materials.
Five of the 15 will be selected to compete in August at Drink. This will involve "performing" your cocktail to the tune that inspired it, as well as mixing a second cocktail that is locally inspired ("No Charles River ice," warns Willy.) Yes, you can sing and dance — but you don't have to. Get creative. We're not talking Tom Cruise or Coyote Ugly — you're cooler than that.
The top Boston finisher moves on to the finals in Manhattan August 30-31 to show bartenders from the other competing cities — NYC, Miami and San Francisco — who's boss.
The winner of the finals wins a red-carpet, all-expenses-paid trip to Jamaica in October to participate in the Global Showcase with bartenders from nine other countries.
How cool is that? Get all the details here. Represent for Beantown!
Tags: Appleton Estate Reserve Rum, bartending contest, cocktail contest, Contemporary Cocktails, music, Remixology
Posted in Bartenders, Cocktails, Rum | 3 Comments »