January 29th, 2009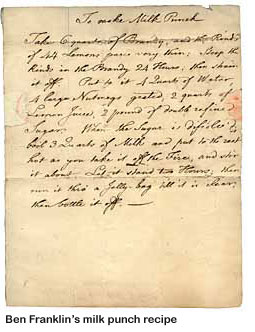 It's one of the oddest drinks I've ever tasted. And I mean that in a good way. I first had milk punch (not to be confused with the simpler concoction of brandy, rum or bourbon, sugar, whole milk and nutmeg served over crushed ice) at a Stir class last winter. It was sweet, velvety, rich … and confusing. That's because, though it's made with milk, it's somewhere between translucent and transparent. In other words, not at all "milky." Leave it to the bartenders at Drink to reintroduce this punch, which takes two days to make, to the modern imbiber. I write a short introduction to one of their recipes, Rum-Hibiscus Milk Punch, in today's online Globe.
There are many variations on the basic milk punch recipe. The drinkboston punch party at Eastern Standard in June featured Milk Punch No. 1 from the Savoy Cocktail Book. Aphra Behn, a 17th-century English dramatist and novelist and allegedly the first woman to make a living as a writer, is credited with inventing milk punch, or at least having the first widely publicized recipe for it. Whatever its origins, it became well known enough during the 18th century for Benjamin Franklin to share a recipe for milk punch with James Bowdoin during his 1763 stay in Boston.
"Franklin's Milk Punch recipe shares characteristics of two types of beverages — possets and syllabubs," according to the Massachusetts Historical Society.
Wow. I am so looking forward to walking into a Boston bar and ordering possets and syllabubs.
Tags: Boston Globe, milk punch
Posted in Brandy, Cocktails, drinkboston in the news, Punch, Rum | 9 Comments »