February 1st, 2010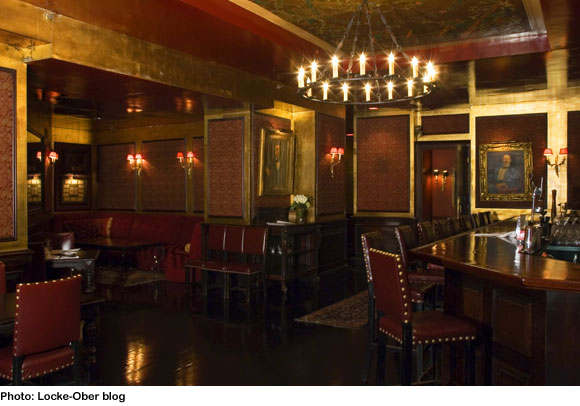 Established: 1875
Specialty: Wine, Martinis, Manhattans
Prices: High
Atmosphere: "Locke's has no peer and few rivals. And the top-hatted ghosts at its bar are those great of the legendary past: Eben Jordan and Theodore Roosevelt, John Drew and Dr. Lowell. They are all drinking Ward Eights with Nick (Stuhl) and Mr. Camus and the founding fathers, Locke and Ober." — Lucius Beebe. See Best Boston bars for address and contact info.
Oh, Locke-Ober. You're like a politician who has been in office forever. Your stunning longevity, and all the historic moments in which you've played a part, give you an aura of grandeur. In your presence, people speak in hushed tones. You are an institution. But oh, how you rest on your laurels. How you favor the cronies who have propped you up and who expect things to be done a certain way. How you sometimes just seem like a decrepit, old man.
Because of the latter traits, the bar at Locke-Ober is probably the worst Best Boston bar. I am conflicted about the place. I love going there, often on my own, ordering a Martini and a bowl of JFK Lobster Stew, and feeling like a part of Boston history. But whenever I go, I think about how much better it could be.
I am far from being a regular — I don't have that kind of money, and it's not the kind of place where I run into people I know — but from what I've observed, the bar experience doesn't come near the quality of the dining room experience. Locke-Ober is famous for its waiters who have worked there for decades. I notice that when they come to fetch a drink order at the bar, their poise and professionalism usually stand out in contrast to that of the bartenders. The bar seems to lack such elder statesmen.
Not that tending bar at Locke-Ober should require only elders, or men. In 2001, Lydia Shire took over the kitchen at this male-dominated institution (it took until 1970 for women to be admitted to the dining room!). She updated the food to meet contemporary fine-dining standards while ensuring the quality of classic Locke-Ober dishes like Dover Sole and the abovementioned stew. My dream is for someone to swoop in and similarly improve the bar. I mean, doesn't it violate some city statute that the place that invented the Ward Eight makes perhaps the worst example of that cocktail in Boston? Crown Royal, sour mix and cheap grenadine — on the rocks. Yikes. Recently, someone ordered a Martini with a twist and got a dried-out, pithy peel that had been cut hours before. And the service at the bar is decent but lacks that special flourish you expect to find at the city's oldest and most famous fine restaurant. It seems obvious that Locke-Ober's dedication to excellence should apply to bartending, but the management has yet to subscribe to that idea.
Nevertheless, I'll keep going back to toast the top-hatted ghosts, and urging history-minded visitors to do the same, as long as the place is around. I am hopeful that progress can happen, even at Locke-Ober.
Tags: Boston history, Locke-Ober, Lucius Beebe, Ward Eight
Posted in Boston bars | 26 Comments »