July 9th, 2008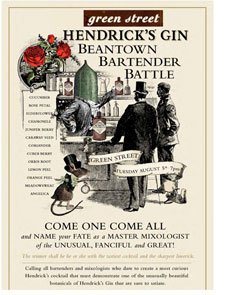 The limerick's structure somewhat
necessitates *eloquent* smut.
If you haven't the time
to learn meter and rhyme,
then don't write them, you ignorant slut.
— From the top 150 limericks on LimerickDB
Finally, a contest for those yearning to combine their mixology and rhyming skills. The Hendrick's Beantown Bartender Battle is putting out the call to all Boston-area mixologists — from those who pour booze for a living to those who have never mixed a drink outside their kitchen — for original recipes using Hendrick's gin. Recipes can use up to six ingredients, but Hendrick's must serve as the base. The cocktail also must highlight one of the 13 botanicals used in the gin: cucumber, rose petal, elderflower, chamomile, juniper berry, caraway seed, coriander, cubeb berry, orris root, lemon peel, orange peel, meadowsweat, and angelica. (Anyone who highlights cubeb berry should get extra credit.)
Submissions are due Wednesday, July 23, and should be emailed to Hendrick's brand ambassador Charlotte Voisey at cvoisey@wgrantusa.com
Now for the fun part. Charlotte will select five finalists and invite them to present their cocktails to a panel of judges at Green Street (280 Green St., Cambridge) on Tuesday, August 5. The contestants can use only one five-line limerick to present, describe or announce their cocktails to the judges. The judges will, of course, consider the limerick along with the cocktail. First prize is a round-trip air ticket to anywhere in the U.S., and Hendrick's promises other, "mysterious and unusual" prizes.
If you just want to be a spectator, no problem. Tickets for the event, which starts at 7:00 p.m., are $20. Charlotte and Green Street bar manager Misty Kalkofen will mix up four Hendrick's gin cocktails, and there'll be some bites to eat, too. To reserve your spot ahead of time, call Green Street at 617-876-1655.
Tags: bartending contests, Hendrick's gin, limericks
Posted in Events, Gin | 9 Comments »