May 26th, 2007
Gin-dig at OM with Charlotte Voisey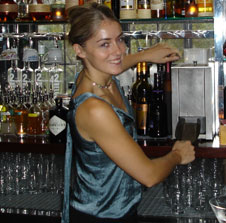 The sun never sets on the British Cocktail Empire. It seems that every week there's some redcoat cocktail consultant and/or liquor brand representative jetting into Boston and concocting drinks for a promotion party. In the past six months, I've met Jamie Walker, brand ambassasor for Bombay Sapphire, Angus Winchester, founder of Alconomics Ltd., and, now, Charlotte Voisey, "brand champion" for Hendrick's Gin and company mixologist for William Grant & Sons USA. She was in town recently for a Hendrick's party at OM in Harvard Square.
OK, I'm jealous. Charlotte is young and gorgeous, and she travels around the world promoting gin and mixing cocktails. How the hell do I get a job like that? Apparently by running cocktail bars in Barcelona, Buenos Aires and London, being named UK Bartender of the Year (2004), winning a silver medal at the World Female Bartending Championships (2006), and consulting on cocktail programs at London's Dorchester Hotel and Manhattan's Gramercy Park Hotel. That's what Charlotte did before moving to New York for her current gig.
At the OM event, Charlotte struck me as someone who takes her job seriously but doesn't take herself too seriously. She wasn't swanning around the room talking up her brand — she was actually behind the bar mixing drinks with the stuff. Two of her Hendrick's cocktails stood out for me: the Cucumber Collins and the Rose & Lychee Martini (see recipes below).
Afterward, Charlotte and I were part of a small group that headed downtown to check out the newly opened KO Prime (formerly Spire) in the Nine Zero hotel. We sampled a few nouveau cocktails, some of which were quite good (more on that in another post). Finally on to No. 9 Park, where John Gertsen mixed us up a tasty smorgasbord of spirits, including an elegant mixture of scotch, Lillet and Drambuie whose name escapes me. The drink was fitting, since Charlotte used to represent Glenfiddich and promote scotch-based cocktails. How does a woman represent a scotch brand? "Communicate in terms of flavour and allow for marketing that is not just about golf and celebrating bonuses," said Charlotte in an Adams Beverage Group interview last year. Yep, she's alright.
Cucumber Collins
1½ oz Hendrick's Gin
3 oz cucumber puree
Shake and strain over fresh ice in a Collins glass, garnish with a long cucumber rod.
(To make a batch of cucumber puree: blend 1 cucumber with 3 oz fresh lemon juice and 3½ oz simple syrup.)
Rose & Lychee Martini
1½ oz Hendrick's Gin
½ oz rose syrup
1½ oz lychee juice
¼ oz fresh lemon juice
Dash egg whites
Dash Angostura bitters
Shake very well and strain up into a chilled cocktail glass. Garnish with an edible flower.
Hendrick's, with its delicate flavor and rose and cucumber notes, naturally works well in these drinks. I have no idea where to get lychee juice and rose syrup. I'd try Whole Foods, Trader Joe's, or Christina's Spice & Specialty Foods in Inman Sq. Cambridge. Also, you might find lychee juice at Asian markets.
Permalink | Filed under Boston bars, Cocktails, Gin |