May 2nd, 2008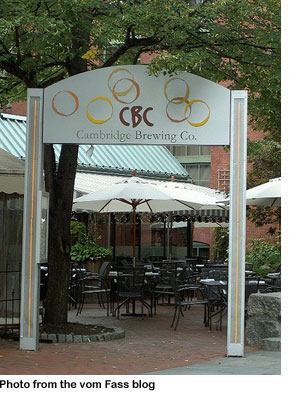 That's how many beers will be on tap this weekend at the Cambridge Brewing Co.'s 19th anniversary fest. Red God IPA — a hop bomb that the brewpub created years ago as a rebuke to the Miller Brewing Co's insipid and briefly popular fake microbrew, Red Dog — will be featured. So will selections from head brewer Will Meyers' new cask cellar, a rich breeding ground for complex, aged, Belgian-inspired sour ales.
Which is to say that the CBC has come a long way since 1989, when it opened with three draught beers that seemed exotically flavorful at the time: Regatta Golden, Cambridge Amber and Charles River Porter. Recently, the CBC expanded its brewery, installing some new tanks and upgrading things a bit. That's to get ready for next year's 20 beers on tap, I imagine.
Come five o'clock tomorrow, I'll be there, doing my part to empty those casks and toasting to the longest-running brewpub in greater Boston.
Tags: brewpub, cambridge brewing co.
Posted in Beer | 3 Comments »