February 7th, 2010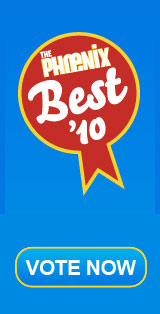 It's campaign season for drinkboston again. For the second year in a row, this site is up for Best Blog in the Boston Phoenix's "Best of Boston" readers' poll. Last year, drinkbostonians conceded the race to the band-interviewing puppet podcaster Silly Gillman. This year, we're up against the political commentators Blue Mass Group, the music-savvy Bradley's Almanac, the local fashion photo album ClickClash, the college radio scenesters On A Friday, and the "all Boston, all the time" Universal Hub.
All worthy contenders. But as worthy as a blog about the drinking life in Boston? To the ballot, my fellow barflies. And for the love of god, don't forget to click the "Finished" button after you've voted (and don't forget to cast ballots for your fave bars and bartenders!). Here's the fine print from the online ballot listing all categories:
FINISHED VOTING FOR YOUR FAVORITES? Please be sure you have finished selecting all the categories you wish to vote for, then click the link below to finish the voting process. We accept one vote per user per category a day.
I'm envisioning the victory party now…
Tags: Best 2010, blogs, Boston Phoenix, readers' poll
Posted in drinkboston in the news | No Comments »