June 26th, 2009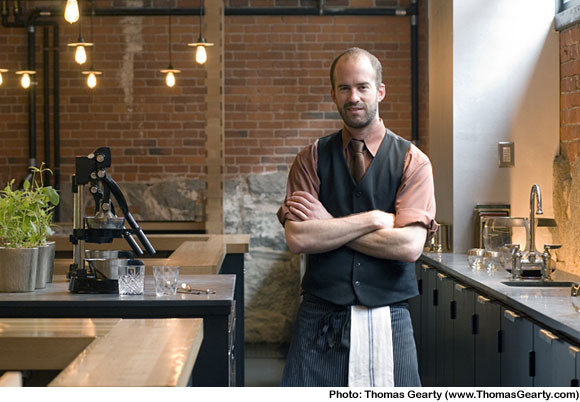 Bartender profile
By the time I first encountered Ben Sandrof, a few years ago when he was working at the Charles Hotel's chichi lounge, Noir, he had already done time at a few other high-end restaurants around Harvard Square, most notably Upstairs on the Square. His first bartending job, however, was in a Monterey, California, pub called the Britannia Arms. That is where, he says, "I learned to be fast." In a not-uncommon trajectory, Sandrof started out in the restaurant industry with thoughts of becoming a talent in the kitchen, only to morph into a talent behind the bar.
Learning the fundamentals of speed is crucial for any bartender, but it has particular importance at Sandrof's current place of employment, Drink. "Banging out" craft cocktails — with custom ice, muddled fresh herbs, house-made bitters and flawless technique, and with only the customer's whim as a guide — is kind of a contradictory phrase, but it describes what Sandrof does at this marquee watering hole. I favor the nights when the place is bustling but not insane, and he has a few minutes to pour me a sample of milk punch he made, or tell me that he happens to be the grandson of Benjamin Ferris, the late Harvard doctor who pioneered air-pollution research.
My first impression of Sandrof was that "he's a suave guy, which I mean in the good sense, i.e. 'effortlessly gracious.'" That assessment holds. He is confident — some might say cocky — in his skills, which has yielded only good results for this customer. I give him the vaguest outlines of what I feel like drinking, and somehow he manages to set something exquisite down on my bar napkin every time.
Hometown
Lincoln, MA.
Past bartending jobs
Upstairs on the Square, Middlesex Lounge, Noir, No. 9 Park, Drink.
Favorite bar in Boston other than your own
Eastern Standard.
The drink you most like to make
Mint Julep.
The drink you least like to make
Dirty __________.
Most beloved bartending book
Jerry Thomas' Bar-Tenders Guide.
If you weren't a bartender, you'd be…
Out in the woods somewhere trying to distill whiskey.
People drink too much…
Flavored vodka.
People don't drink enough…
Gin.
Drink for a rainy day
Rum Old Fashioned.
Least appreciated alcoholic beverage in Boston
Anything with tiki inspiration.
Most overrated alcoholic beverage in Boston
Anything that ends with -tini that is not a proper Martini.
The best thing about drinking in Boston
The cocktail culture is expanding rapidly. We have lots of creative bartenders.
The worst thing about drinking in Boston
Public transportation stops before the bars close.
Tags: Ben Sandrof, Drink
Posted in Bartenders | 6 Comments »