May 21st, 2009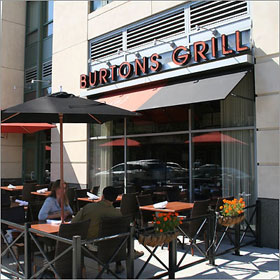 Staying in town this weekend? Then stop by Burton's Grill on Boylston St. Saturday between 11:00 and 3:00 for the first annual B4 (Boston's Best Brunch Bartender) Challenge. The event, whose proceeds will go to I Hate Cancer, pits nine bartenders from nine different Boston neighborhoods against each other in a mix-off. The winner gets to showcase his or her cocktail on Drink this! a new segment on NECN's TV Diner, whose co-host, Jennie Johnson, will emcee the B4 Challenge. The thing I like about all this, besides the good cause it's benefiting, is that I will be one of the judges. Sweet.
You don't need to buy tickets or make a reservation, just show up, order a drink and a plate of eggs, and enjoy the festivities. The sponsor of B4 is Absolut Mango vodka, which means that all of the competing cocktails will contain this spirit. I know what many of you are thinking. 'Flavored vodka? Lame.' But I like the idea of bartenders starting with any prescribed cocktail ingredient and creating something interesting and tasty with it. Here are the contestants and their bars (good luck to all):
Michael Ahearn, Stella
Jackson Cannon, Eastern Standard
Janessa Davis, Boston Beer Garden
Mike Doyle, Harvard Gardens
Joe Kin, Florentine
Chris Little, Burton's Grill
Matt Stricos, Stephanie's on Newbury
Katrina Turner, Red Sky
Paul Westerkamp, 33 Restaurant
Hope to see you there!
Tags: B4 Challenge, bartending contest, Brunch, Burton's Grill
Posted in Bartenders, Boston bars, Brunch, Vodka | 9 Comments »