November 24th, 2009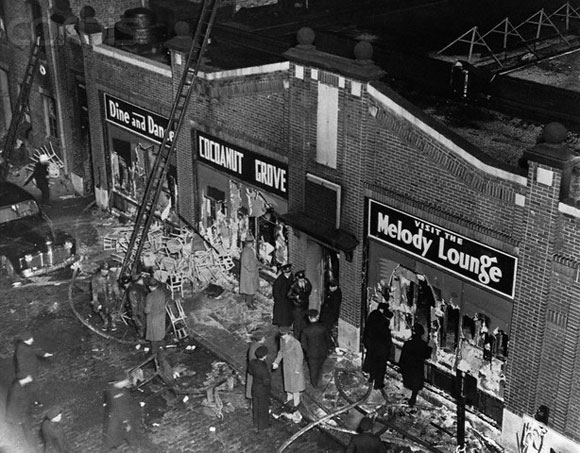 Not to dampen your holiday spirit, but if you're out on the town this Saturday, November 28, you might take a moment to drink to the memory of Boston's infamous Cocoanut Grove fire — the worst nightclub fire in history — which claimed almost 500 lives that night back in 1942.
Formerly a speakeasy, the swanky South End club had three bars and a ballroom that was decorated with highly flammable paper palm trees and cloth covering the ceiling and walls. The fire started when a busboy lit a match near one of the palm trees where he was replacing a lightbulb. As flames rapidly engulfed the club, many in the over-capacity crowd were trapped; the revolving-door main entrance jammed, and the other exits were locked or blocked. Within 15 minutes, 492 people were dead or dying. In the aftermath of the tragedy, fire safety codes, manslaughter law and medical treatment for burns and lung injuries were transformed.
If you're a student of Boston and bar history as I am, you might want to check out "The Haunting Legacy of the Cocoanut Grove Fire" on the anniversary of the tragedy. It's a free, illustrated lecture by former Boston Herald reporter Stephanie Schorow, who authored The Cocoanut Grove Fire. I befriended Schorow in the course of doing my own research on bar-related Boston topics, and her book is a fascinating read. Her talk, which will feature newly discovered photos and explore various theories about the cause of the fire, happens on the 28th from 5:00-7:00 p.m. at Jamaicaway Books & Gifts, 676 Centre St. in Jamaica Plain.
The Boston Globe published a detailed remembrance of the Cocoanut Grove fire on its 50th anniversary in 1992, and the article serves as a good primer about the tragedy. One interesting tidbit among the hundreds connected to the event: one of the waiters who escaped the fire, Chico Adolf Cecchini, soon after began working at Locke-Ober, where he was headwaiter for about 40 years.
Tags: 1942, Boston history, Cocoanut Grove, fire, nightclub
Posted in Books & resources, Boston bars | 12 Comments »