February 14th, 2007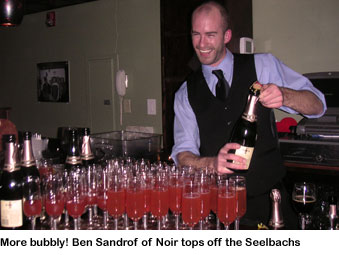 What better way to spend a Monday night in February than at a cozy neighborhood restaurant drinking champagne cocktails mixed by some of Boston's best bartenders? That's the sound reasoning that brought 60+ people to Green Street last night for drinkboston.com's sold-out champagne cocktail party. Misty Kalkofen of Green Street and the B-Side Lounge, Ben Sandrof of Noir, Dylan Black of Green Street and John Gertsen of No. 9 Park mixed four distinctive classic cocktails using champagne: the Diamond Fizz, the Black Velvet, the B2C2 and the Seelbach (recipes below). Not only that, they visited each and every table in the room, explaining the drinks' origins (or alleged origins, given that the history of cocktails is usually as unverifiable as the provenance of traditional folk songs). The evening was festive and informative — well worth the price of a small headache on Tuesday morning.
To get on the email list for future drinkboston.com events, email drinkboston at comcast dot net.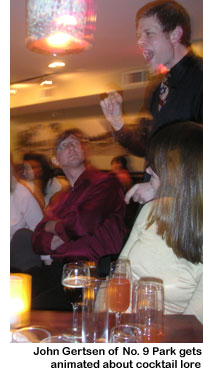 The cocktails
B2C2
1 oz each of brandy, Benedictine and Cointreau shaken over ice and strained. Top with champagne.
Misty learned of this drink from David Wondrich's Killer Cocktails: An Intoxicating Guide to Sophisticated Drinking. It was "created by American intelligence officers at the end of WWII. They had all of these wonderful goods that had been looted from the French by the Germans and then left behind during the Germans' retreat," she says. Luxurious bubbles.
Diamond Fizz
2 oz gin, 1 oz lemon juice and 1/2 tsp powdered sugar shaken over ice and strained. Top with champagne.
A dressed-up gin fizz (which uses seltzer instead of champagne). Also similar to the French 75, only it contains less sugar and no garnish. The Cocktail Database recipe calls for a highball glass with ice, but we served it straight up in a saucer. Delicious either way.
Black Velvet
1/2 stout and 1/2 champagne in a wine glass or flute.
Said to have been created at London's Brooks Club in 1861 during mourning over Prince Albert's death. Also called the Bismarck, as the drink was a favorite of German statesman Otto von Bismarck. Dylan used Mackeson's Stout for this drink. Dark and rich.
Seelbach
1 oz bourbon, 1/2 oz Cointreau and 7 dashes each Angostura and Peychaud's bitters poured into a flute and stirred. Top with champagne.
Invented at the Seelbach Hotel in Louisville, Kentucky, circa 1917. The recipe was lost, probably during Prohibition, until being rediscovered by the hotel in 1995 and later printed in Gary and Mardee Regan's New Classic Cocktails. This is one of the great whiskey drinks.
Posted in Bartenders, Beer, Brandy, Champagne, Cocktails, Events, Gin, Liqueur | No Comments »