January 19th, 2007
Champagne cocktails at Green Street 2/12/07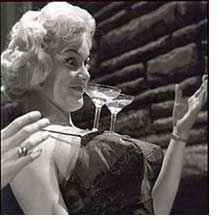 Champagne is special. Cocktails are special. Put the two together and you get something even greater than the sum of its fabulous parts, a champagne cocktail. And I'm not talking about the drink where you drop a sugar cube and some bitters in a glass of champagne (though that is a good drink). I'm talking champagne with booze in it. I'm talking the Seelbach: bourbon, Cointreau, Peychaud's bitters and Angostura bitters, topped with bubbly. To the uninitiated, that may sound scary, like the liquor equivalent of PCP. But one sip and you realize it's just the opposite — oh so sophisticated. The champagne mellows the bracing effect of the bourbon and bitters, which in turn give the champagne a dangerous quality. One Seelbach makes you feel like you're at a lawn party at San Simeon. A few Seelbachs make you feel like you're in a nightclub balancing glassware on your boobs.
On Monday, February 12, Green Street (280 Green St., Central Square, Cambridge) and drinkboston.com will host a party featuring the Seelbach and other champagne cocktails presented by four of Boston's best bartenders: Dylan Black of Green Street, John Gertsen of No. 9 Park, Misty Kalkofen of Green Street and the B-Side Lounge, and Ben Sandrof of Noir. Tickets are $20 and include four champagne cocktails, passed apps, and the fun of mingling with other imbibers who appreciate an expertly mixed drink and a little cocktail history in one of Boston's best bars. This 7:00 p.m. event will likely sell out, so order your tickets in advance by calling Green Street at 617-876-1655 or emailing owner Dylan Black at dylanblack (at) verizon (dot) net.
The drinks:
Black Velvet (stout and champagne)
Dylan Black, owner of Green Street
Said to have been created at London's Brooks Club in 1861 during mourning over Prince Albert's death. Also called the Bismarck, as the drink was a favorite of German statesman Otto von Bismarck.
Diamond Fizz (gin, lemon juice, powdered sugar, champagne)
Ben Sandrof, bar manager at Noir
A dressed-up gin fizz (which uses seltzer instead of champagne). Similar to the French 75, only it contains less sugar and no garnish.
Bâ''Câ'' (brandy, Benedictine, Cointreau, champagne)
Misty Kalkofen, bartender at Green Street and B-Side Lounge
Misty says this drink was "created by American intelligence officers at the end of WWII. They had all of these wonderful goods that had been looted from the French by the Germans and then left behind during the Germans' retreat."
Seelbach (bourbon, Cointreau, Angostura & Peychaud's bitters, champagne)
John Gertsen, principal bartender at No. 9 Park
Invented at the Seelbach Hotel in Louisville, Kentucky, circa 1917. The recipe was lost, probably during Prohibition, until being rediscovered by the hotel in 1995.