January 6th, 2010
Chartreuse at the Franklin 1/14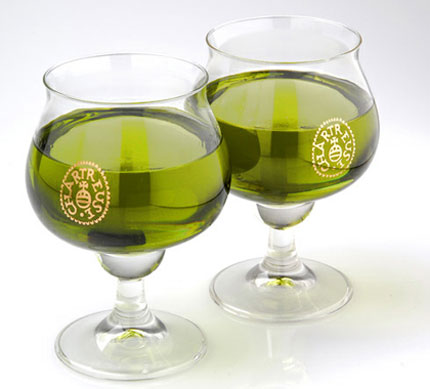 And the Franklin-drinkboston Industry Night series continues… This month's ingredient? Chartreuse. Which makes us pioneers of a new decade, according to Derek Brown of the Atlantic online.
Next Thursday night starting at 8:00 p.m., bar manager Joy Richard and the gang at the Franklin Southie will stock the bar with many, many bottles of the Carthusian monks' famous herbal liqueur for our cocktailing pleasure. Original and classic drinks with both green and yellow Chartreuse will be on the evening's menu and will be a steal at $6. Another steal–$7 shots of VEP Chartreuse in iced shot glasses. Yes, I said $7 shots of VEP Chartreuse in iced shot glasses.
Not to mention a $5 bar menu starting at 9:00 p.m. and some coveted Chartreuse swag (while supplies last).
And if you are as inspired as we are by the charitable ways of the monks, bring in a canned food item to be donated to the Greater Boston Food Bank, and you'll be entered into a drawing for a Very Special Gift from Chartreuse.
Whether you're industry, or you just like hobnobbing with industry, or you just like Chartreuse, come join us for some botanical shenanigans.
Permalink | Filed under Events, Liqueur | Tags: chartreuse, Franklin Southie