December 16th, 2009
Sherry: out from the shadows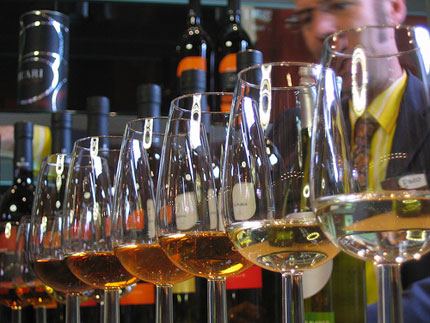 As far as I know, sherry has remained largely under the radar in Boston as both a straight drink and a cocktail ingredient. Sure, it started trickling back onto peoples' palates a while ago with the advent of tapas restaurants like Dali, Tapeo and Toro. And several drinks writers have made a case for it recently — check out Camper "Alcademics" English's roundup of articles about sherry, Paul Clarke's helpful primer in Imbibe and my tribute to the Barbara West. Still, this Spanish fortified wine, with multiple styles ranging from dry and briny to mellow and nutty to raisiny and viscous, occupies only a tiny niche in this city's drinking culture.
That may be changing. Today, two Boston bartenders, Corey Bunnewith of Coppa and Misty Kalkofen of Drink, competed in the fourth annual Vinos de Jerez (Sherry) Cocktail Competition at Clover Club in Brooklyn. Alas, neither took home the gold, but their cocktails were singled out as finalists. Take a look:
Balao Swizzle
Corey Bunnewith
3 oz dry oloroso sherry (Don Nuño)
1/2 oz Meletti amaro
1/2 oz velvet falernum
1/2 oz lime
1/4 bar spoon caraway seeds
Angostura bitters
Lightly muddle caraway seeds in a collins glass to extract aromatics. Discard seeds. Add crushed ice and liquid. Swizzle until chilled. Float bar spoon of Angostura bitters over the top.
Dunaway
Misty Kalkofen
2 1/4 oz fino sherry (Lustau)
1/2 oz Cynar
1/2 oz maraschino liqueur (Luxardo)
2 dashes Angostura orange bitters
Stir with ice and strain into a chilled cocktail glass. Garnish with a lemon twist.
Like its botanical-infused cousin vermouth, sherry is increasingly an ingredient that bartenders are using to make layered, sophisticated drinks that don't singe your brain cells with hard spirits. I happened to be present at the birth of the Dunaway, whose name was my suggestion. Misty served me this drink in a vintage stemmed glass, and an image of Faye Dunaway in Chinatown, set in the 1930s, popped into my head: elegant and intriguing.
Thanks to special correspondent Aaron Butler, a colleague of the two Boston contestants at both Coppa and Drink, for the breaking contest results. And congrats to Charles Joly of the Drawing Room in Chicago for placing first and winning a trip to Spain.
Permalink | Filed under Bartenders, Cocktails | Tags: sherry