March 23rd, 2009
Event – urban luau at Eastern Standard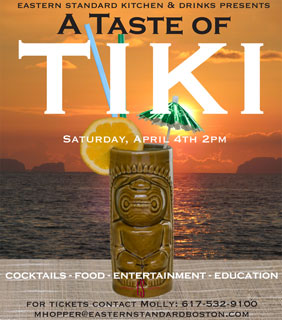 Dust off your lei, your hula skirt and your Don Ho loafers and join drinkboston and the Fraternal Order of Moai for a tiki party-urban luau at Eastern Standard Kitchen & Drinks on Saturday, April 4 starting at 2:00 p.m.
A roasted pig will be the centerpiece of a three-course luncheon of traditional Polynesian-American fare in the great Donn Beach/Trader Vic tradition. Three freshly squeezed, rum-soaked tiki cocktails accompany the food: a recent creation by Brother Cleve, who will program the exotica music soundtrack for the day and also give a keynote presentation on the history of Polynesia in both the U.S. and Boston; another tiki original by the Eastern Standard bar staff; and a classic recipe from tiki's early era in the 1930s and '40s.
Cleve points out that Eastern Standard is "within staggering distance of Boston's original 1940s Polynesian Village, later the Aku Aku — a favorite haunt of the early punk rock crowd in the '70s due to its proximity to the Rat. The goldfish-bowl bar railing full of dead goldfish helped create the proper vibe. And people wonder why these places died out!"
All the eats, drinks, education and entertainment are included in a ticket price of $50 per person. Tix can be purchased over the phone (617-532-9100), via email (mhopper at easternstandardboston dot com) or by stopping into Eastern Standard anytime between now and April 4. Hope to see you there!
Permalink | Filed under Cocktails, Events, Rum | Tags: Donn Beach, luau, Polynesia, tiki, Trader Vic